Two UMD Students Win National Defense Science and Engineering Graduate Fellowships
Department of Aerospace Engineering graduate students Richard Kennedy and Laura Paquin have been awarded 2016 National Defense Science and Engineering Graduate (NDSEG) Fellowships from the Air Force Research Laboratory.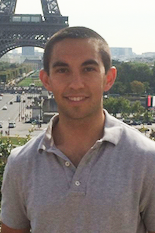 Kennedy is currently a Ph.D. student working with Assistant Professor Stuart Laurence on experimental hypersonics. His work includes high-speed boundary layer transition experiments performed in conjunction with Arnold Engineering Development Complex's (AEDC) Hypervelocity Tunnel 9. Prior to attending the University of Maryland (UMD), Kennedy received an M.S. in Fluid Mechanics from École Polytechnique in Paris, an M.S. in Aeronautics from Caltech and a B.S. in Aerospace Engineering from the University at Buffalo, SUNY.
Paquin will be a first year Master's student this fall working with Assistant Professor Laurence. Her interest in aerodynamics stemmed from attempting to perfect her jumping technique over eight seasons on her high school track and field team. During her undergraduate years, she spent several summer internships working for GE Aviation and Northrop Grumman, but reading the daily aerospace news prompted her interest in high-speed flight, and she spent a year and a half pursuing undergraduate research in experimental hypersonic aerothermodynamics.
She received her B.S in aerospace engineering in 2016 from the University of Notre Dame and received the Sigma Gamma Tau Great Lakes Region Undergraduate Award.
National Defense Science and Engineering Graduate Fellowships are awarded to applicants who are pursuing a doctoral degree in, or closely related to, an area of DoD interest within one of fifteen disciplines and serve to increase the number of U.S. citizens and nationals trained in science and engineering disciplines that are valuable to the U.S. Department of Defense.
For more information on NDSEG Fellowships, visit https://ndseg.asee.org.
Published June 21, 2016