University Honors Names Levashov as a Best Paper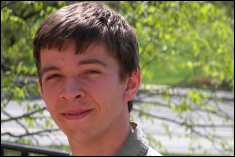 The University of Maryland's University Honors Program has chosen Michael Levashov's submission as a Best Paper winner. Michael is a senior in the aerospace engineering program.
The title of his paper was "A Hardware Study of a Simple Force Reflecting Teleoperator". Fourteen papers/projects were selected from a very competitive pool of Honors students. Michael's paper was also published in the American Institute of Aeronautics and Astronautics' journal.
According to his advisor, Dr. David Akin, "His project was an ambitious one for an undergraduate honors research topic...He achieved all of the goals we had originally set and more, and wrote an excellent paper documenting the new system, with quantitative evaluations of performance."
Michael, also an Aerospace Honors student, is in the space track with a second major in physics, and has maintained a 4.0 grade point average. He has been selected as a finalist for the Hertz Fellowship. Michael has also worked for Dr. Alison Flatau on smart materials testing, on the balloon payload project with Dr. Mary Bowden, and at the Magnetic Measurements Laboratory at the Stanford Linear Accelerator Center. He plans to attend graduate school and study robotics control systems.
Published April 22, 2008