UMD Alumna Demonstrates There are Many Roads to Becoming an Astronaut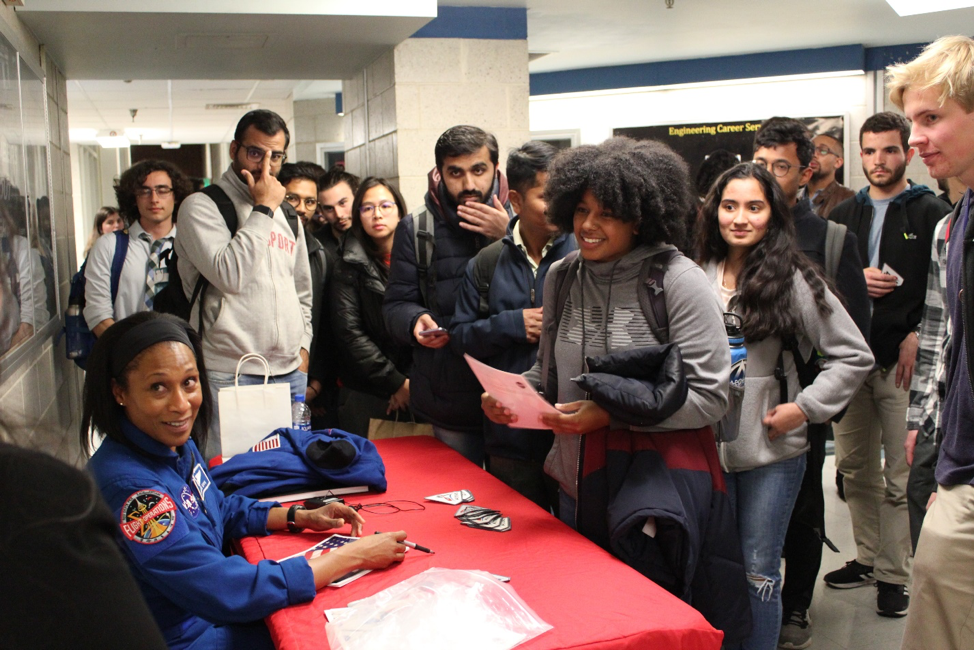 There is no one path to becoming a NASA astronaut. For University of Maryland (UMD) Aerospace Engineering alumna Jeanette Epps (M.S. '94, Ph.D. '00), her path included stops at Ford Motor Company and the Central Intelligence Agency (CIA) before she found her way to NASA.
During events on campus last week, Epps spoke to packed audiences about her experiences as an aerospace engineer and NASA astronaut, and discussed how her unique path helped distinguish her from the talented pool of applicants who apply to become astronauts.
Becoming an astronaut wasn't Epps primary focus when she went into aerospace engineering, but by pursuing excellence and enjoyment in her career, she cultivated the experience she needed to be accepted into the 2009 NASA Astronaut Corps.
Epps said that her time at Maryland helped prepare for her the world outside of College Park. By becoming a well-rounded engineer, she was able to take things she learned here in the classroom and lab with Dr. Inderjit Chopra and apply them to her first post-Ph.D. position at Ford, where the multi-disciplinary nature of aerospace engineering translated easily.
"I wanted to prove to myself that whatever they taught me here, I can take it anywhere and be successful," says Epps.
Epps also attributed her experiences in Maryland's multi-cultural environment with helping her work seamlessly in diverse job settings. Working with a diverse group of people was the norm at Maryland, so when her astronaut training took her to Russia, Epps was able to communicate and work with the Russians efficiently and easily because it was not really a new situation.
Part of Epps' recent astronaut training took her deep below the Earth's surface to explore the extreme environments of caves. The program, appropriately dubbed Cooperative Adventure for Valuing and Exercising human behavior and performance Skills (CAVES), is a European Space Agency astronaut training course where astronauts learn to communicate effectively and work as a team under the extreme conditions.
Using only head lamps, the astronauts learn to traverse through waist high water and maneuver jagged, slippery, rocks to complete scientific experiments such as searching for microplastics and testing water chemistry.
Epps said that the CAVES training was one of the hardest challenges in her life, adding that the experience helped her because she was able to push herself harder than she had before and was able to better learn who she was under extreme conditions. However, when asked if she had found her limits yet in astronaut training, she said she had not, and is still looking for her next big challenge.
Her training also took her to Slovenia, and during that visit, a young girl asked Epps what it was like being the only woman in a group of five astronauts. Epps answered by saying that it had never dawned on her that she was the only female, because she always viewed herself first and foremost as a crewmate.
"I am a crewmate, period," says Epps. "You can't change things over night, it takes a generation, but starting to use those correct words for what I am is the first step."
During her visit to campus, Epps met with student groups Women in Aeronautics and Astronautics (WIAA) and American Institute of Aeronautics and Astronautics (AIAA) on the current state of their organizations. She was pleased with the progress that both chapters have had in informing and engaging potential and incoming students about the major.
The WIAA chapter on campus is helping to raise the retention rate of first-year students who identify as female in the Aerospace Engineering major. In just five years the retention has grown from 13% to 25%.
"The fact that they have (high school) students that they have mentored coming here (and studying to become aerospace engineers) is telling," says Epps. "What these young women have done is huge."
"It is rewarding to know that the importance and impact of WIAA is recognized by someone experiencing first-hand the need for women in the field," says Julia Mittelstaedt, President of WIAA. "Epps is an incredible role model and it is wonderful to have her support."
One of NASA's current missions, Artemis, is scheduled to land the first woman, and the next man, on the moon by 2024. While Epps doesn't know if she'll be one of those women, she was adamant that the room full of engineering students in front of her were a vital part of the future success of Artemis, NASA, and beyond.
Epps says that one day she would like to write a book inspiring young girls and boys to get excited about their possibilities in science and engineering, and to "help them understand that what people think of them is not as important as what they think of themselves."
By: Jacob Rousseau
Published December 4, 2019