To the Stars: UMD Alumna to Be First African-American Crew Member on the International Space Station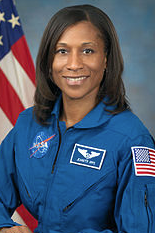 NASA has announced that University of Maryland (UMD) A. James Clark School of Engineering alumna Jeanette Epps (M.S. '94, Ph.D. '00) will be part of Expedition 56 to the International Space Station (ISS) in 2018. She will also remain aboard as part of Expedition 57. This posting will make her the first African-American to crew the station and the 13th woman.
NASA selected Epps in 2009 as one of 14 members of the 20th NASA astronaut class. Her training included scientific and technical briefings, intensive instruction in ISS systems, spacewalk training, robotics, T-38 flight training and wilderness survival training.
As a Flight Engineer aboard the ISS, Epps will be responsible for supporting both research activities during the mission and onboard maintenance for the nearly twenty-year-old station. In addition, crew members serve as experiments themselves, with data regularly collected on them to provide insights into the effects of space on the human body.
The New York native was a NASA Fellow during graduate school at UMD and authored several journal and conference articles describing her research involving extensive testing of composite swept-tip beams, comparative analysis of analytical models and experimental data for shape memory alloys and the application of shape memory alloy actuators for helicopter rotor blade tracking.
Epps then worked for Ford Motor Company where she received both a provisional patent and a U.S. patent for her research. After leaving Ford, she joined the Central Intelligence Agency (CIA) for seven years working as a Technical Intelligence Officer before becoming an astronaut.
She has regularly supported Maryland through visits to campus, speaking with undergraduate aerospace engineering classes to discuss her experiences as an astronaut and talking to students about what it takes to succeed as an engineer.
When students ask 'How do I become an astronaut?' Epps has said, "There is no recipe to becoming an astronaut. If they examine the backgrounds of those selected in my class, our backgrounds range from military, engineering, biology and medical. They must make their careers and lives the best possible so that the only job that can take them away is a career to become an astronaut."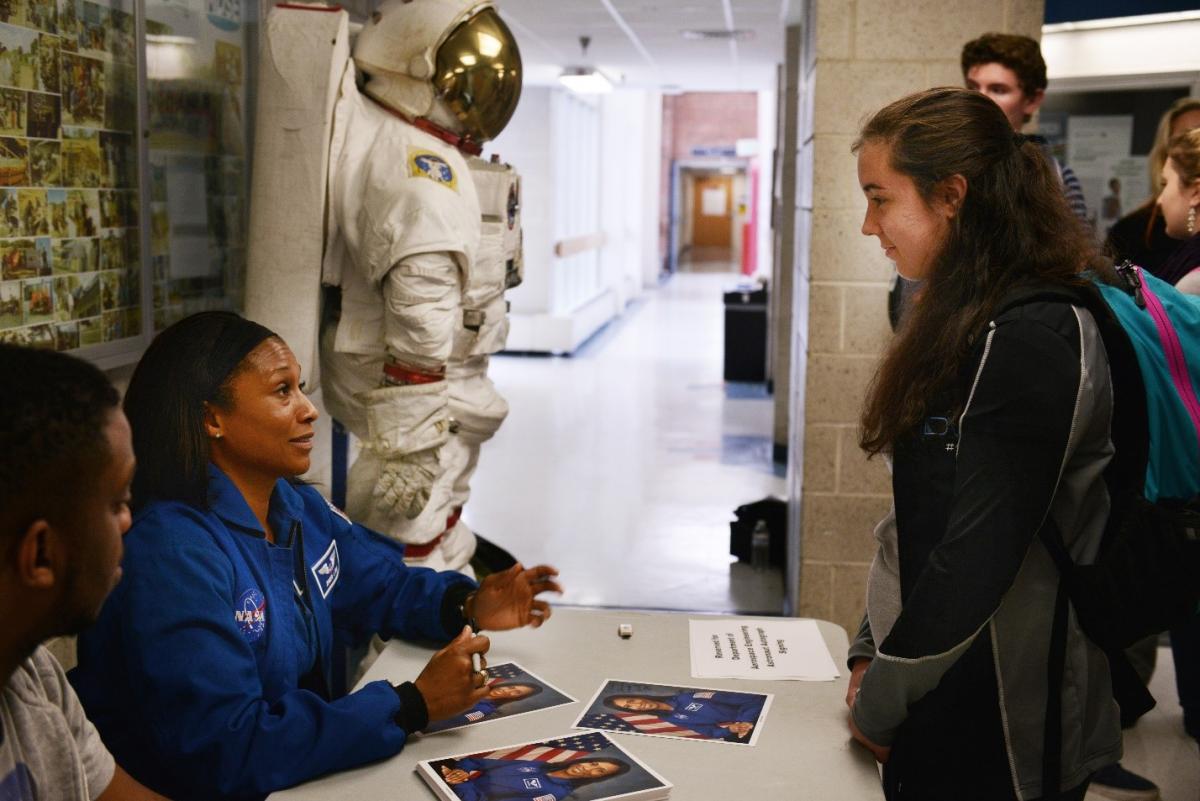 Epps speaking with UMD students during a fall 2015 campus visit.
One of the most unexpected side effects of her position as an astronaut has been the level of responsibility she feels towards the public. According to Epps, astronauts are role models, and they have a responsibility to give back to the larger world community.
"In my career, many have helped me along the way, especially Dr. [Inderjit] Chopra, so I feel a sense of responsibility to give back," explained Epps after a trip to UMD to present to an aerospace engineering class. "Also, Maryland is a great school that I believe can rival any school in academics, especially engineering. I want the students to understand that and to pass it along long after leaving Maryland. I love visiting UMD because it reminds me of a happy, but tough, time in my life."
Published January 17, 2017