Four UMD Aerospace Engineering Students Named Penton Aviation Week Network's 20 Twenties
Four University of Maryland (UMD) aerospace engineering students, Brian Free, Rubbel Kumar, Wanyi Ng and Rosie Weinstein, have been named "Tomorrow's Engineering Leaders: The 20 Twenties" by Penton's Aviation Week Network. The award, granted in partnership with the American Institute of Aeronautics and Astronautics (AIAA), recognizes top students in engineering, math, science and technology from across the country and globe, and connects the next generation of aerospace and defense talent with established leaders in the fields.
Brian Free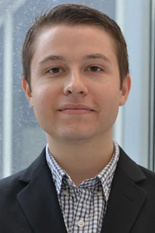 Free is working on his Ph.D. in the Collective Dynamics and Controls Lab under Professor Derek Paley. He earned his B.S. in aerospace engineering at UMD in 2015, graduating summa cum laude with departmental honors. His research interests are in the areas of underwater locomotion of robotic vehicles and bioinspired sensing that mimics the lateral lines and vestibular systems found in fish. His long-term research goal is to create a fully autonomous robotic fish capable of exhibiting schooling and tracking behavior with other robotic vehicles and using bioinspired sensors.
Rubbel Kumar
Kumar completed his B.S. in aerospace engineering at UMD in 2014 and is now a part-time Master's student specializing in Aerodynamics and Propulsion. He simultaneously works full-time as an Aerodynamicist and Computational Fluid Dynamicist at the Johns Hopkins University Applied Physics Laboratory (JHU/APL) in Laurel, Md. At JHU/APL, Kumar serves as a mentor for the ASPIRE High School Mentoring Program and the College Summer Internship Program, is a sector representative for the APL Staff Orientation Program and a volunteer for STEM outreach activities. He was recently chosen to participate in the Loyola University and Howard County Leadership Essentials Program. Kumar's undergraduate Aerospace Honors Thesis research on the despinning of orbital debris using laser ablation with UMD Associate Professor Raymond Sedwick was published in the AIAA Journal of Spacecraft and Rockets.
Wanyi Ng
Ng is a first year graduate student working with Associate Professor Anubhav Datta. Her research focuses on theoretical and experimental modeling of hybrid-electric rotorcraft propulsion. She grew up in Flagstaff, Ariz. where she attended public school before earning her B.S.E. in mechanical engineering at Duke University. She is a Pathways Intern at NASA Goddard and a member of a dance company in Washington D.C.
Rosie Weinstein
Weinstein graduated from UMD with a B.S. in aerospace engineering in 2016, during which time she worked as an undergraduate researcher in UMD's Aerosmart and Morpheus labs researching active flow control and UAV control surface analysis. In addition to completing internships at both NASA Langley and Northrop Grumman Electronic Systems and Aerospace Systems, Weinstein was one of the founding members of UMD's Women in Aeronautics and Astronautics (WIAA), and currently serves as the organization's Vice President. She is now a graduate research assistant in UMD's Morpheus Lab at the National Institute of Aerospace pursuing graduate work in aerospace dynamics and controls under the mentorship of Samuel P. Langley Distinguished Professor James E. Hubbard, Jr.
Penton's Aviation Week Network's "Tomorrow's Engineering Leaders: The 20 Twenties," program connects the next generation of aerospace and defense talent with established leaders who have created many of the "firsts" driving innovation in the 21st century.
Since Penton's Aviation Week Network first launched the program in 2013, the organization has recognized 10 University of Maryland students and alumni as 20 Twenties.
2016: Sylvie DeLaHunt, Elaine Petro and Lauren Trollinger
2014: Nelson Yanes (B.S. '14) and Elena Shrestha
2013: Kenneth 'Kip' Hart (B.S. '13)
This year's 20 Twenties will be recognized during an honors luncheon held March 2 in Washington D.C.
Published January 25, 2017