Griffin "Eminent Scholar" at UAH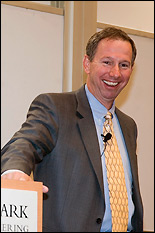 Michael D. Griffin, Ph.D. '77, aerospace engineering, and former head of NASA, has been hired by the University of Alabama in Huntsville as an eminent scholar and tenured professor in the Department of Mechanical and Aerospace Engineering.
In 2005, Griffin was appointed as the 11th NASA Administrator, serving in that role until earlier this year. He was previously head of the space department at the Applied Physics Laboratory (APL) of the Johns Hopkins University, and he played a leading role in numerous other space missions through employment at the APL, the Jet Propulsion Laboratory and Computer Science Corporation.
He is member of the National Academy of Engineering and the International Academy of Astronautics, an honorary fellow of the American Institute of Aeronautics and Astronautics, a fellow of the American Astronautical Society, and a senior member of the Institute of Electrical and Electronic Engineers. He is the recipient of many honors and awards, including the NASA Exceptional Achievement Medal, the AIAA Space Systems Medal and Goddard Astronautics Award, and the Department of Defense Distinguished Public Service Medal, the highest award which can be conferred on a non-government employee. He is also the 2009 recipient of the National Space Club's Goddard Trophy, and the Rotary National Award for Space Achievement.
Griffin is expected to assume his duties in mid-May.
Published April 15, 2009