Three Ph.D. students awarded Amazon Lab126 Fellowships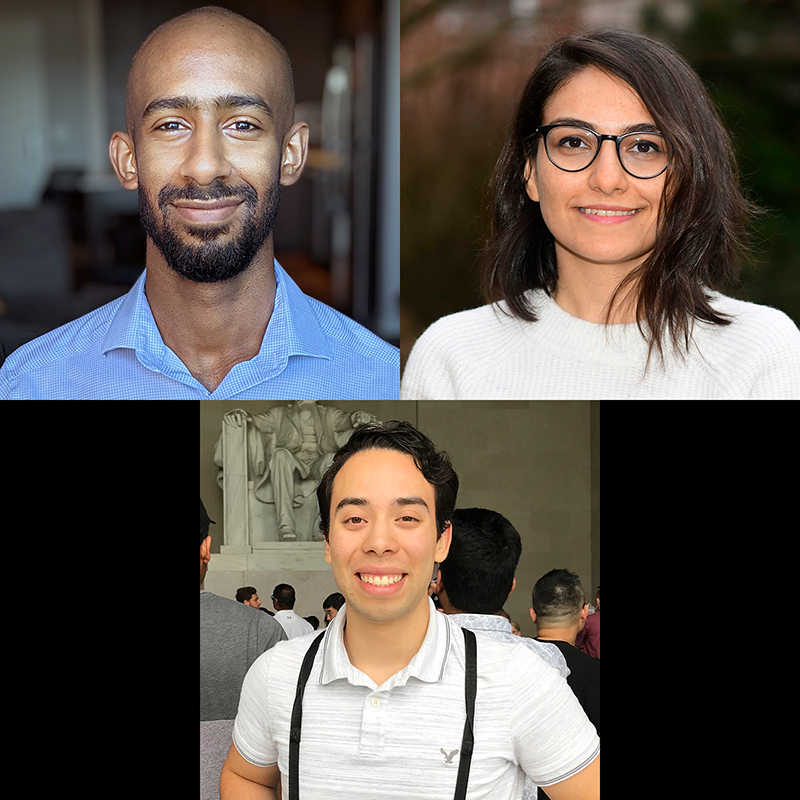 In 2020, through the generosity of Amazon Lab126, the A. James Clark School of Engineering in partnership with the Maryland Robotics Center established a prestigious graduate fellowship program to support outstanding Ph.D. students who have demonstrated their commitment to diversity and inclusion and research excellence. The students' research interests may be in mobile robotics, robot motion planning, computer vision, pedestrian tracking, and machine learning.
In this second year of the program, three deserving students are receiving fellowships.
Pedro Sandoval-Segura is a Computer Science Ph.D. student with research interests in computer vision and deep learning, including adversarial training. His advisors are Professor David Jacobs (CS) and ISR-affiliated Professor William Regli (CS), the director of the Applied Research Laboratory for Intelligence and Security (ARLIS).
Sydrak Abdi is an Aerospace Engineering Ph.D. student advised by Professor Derek Paley (AE/ISR), the director of the Maryland Robotics Center. He works in Paley's Collective Dynamics and Control Laboratory, and his research interests are in motion control and robotic swarms.
Sara Honarvar is a Mechanical Engineering Ph.D. student who has been awarded the fellowship for a second year. Supervised by Assistant Professor Yancy Diaz-Mercado (ME), her dissertation is focused on how human collaboration can be a model for safe and reliable interactions between humans and robots.
The Maryland Robotics Center is a Clark School research and education unit within the Institute for Systems Research that advances robotic systems and their underlying component technologies for a wide variety of applications. Director Derek Paley has worked to expand financial support for robotics students and increase the number of women and underrepresented minority students studying in the field.
The fellowship provides merit-based support and may include an invitation to a summer internship at Lab126. Amazon Lab126 is Amazon's research and development team for consumer electronic devices, software and operations such as the Fire, Kindle, Amazon Fire TV, and Amazon Echo. The lab is committed to advancing robotics through both cutting-edge research and increasing the pipeline for underrepresented minority talent entering the field.
Published October 1, 2021