Chopra Promoted to Rank of Distinguished University Professor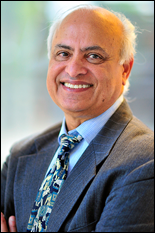 Department of Aerospace Engineering Alfred Gessow Professor Inderjit Chopra has been promoted to the rank of Distinguished University Professor at the University of Maryland (UMD). This is the highest scholarly rank attainable by a faculty member, and only 48 active faculty hold this position at UMD.
Chopra is the Alfred Gessow Professor of Rotorcraft Engineering, and has been the director of the Alfred Gessow Rotorcraft Center for over 30 years. He was the inaugural recipient of the Alfred Gessow Chair in Rotorcraft Engineering, and he oversaw the growth of the rotorcraft center so that it is now a premier center of excellence in rotorcraft in the nation, and the world.
Chopra is internationally recognized as the leading scholar in helicopter rotor dynamics and active rotors. His long and sustained publication record includes landmark papers in the most prestigious journals in fields of aerospace engineering and vertical or direct lift aircraft. He has published over 190 journal articles, over 350 articles in conference proceedings and has given over 50 invited lectures all over the world. He has secured, as principle investigator, six major research grants representing 65 years of funding of a million dollars or more. He has won numerous lifetime achievement awards and awards from the American Institute of Aeronautics and Astronautics (AIAA), the American Helicopter Society (AHS) and the American Society of Mechanical Engineers (ASME) for his outstanding scholarly contributions, public service, mentorship of colleagues and students and teaching.
Distinguished University Professors have been recognized nationally and internationally for the importance of their scholarly and/or creative achievements. They have demonstrated the breadth of interest characteristically encompassed by the traditional role of scholar, teacher and public servant. In addition, they have brought distinction to the University of Maryland as a result of their activities.
Published July 7, 2014