Seven UMD Students Receive Vertical Flight Foundation Scholarships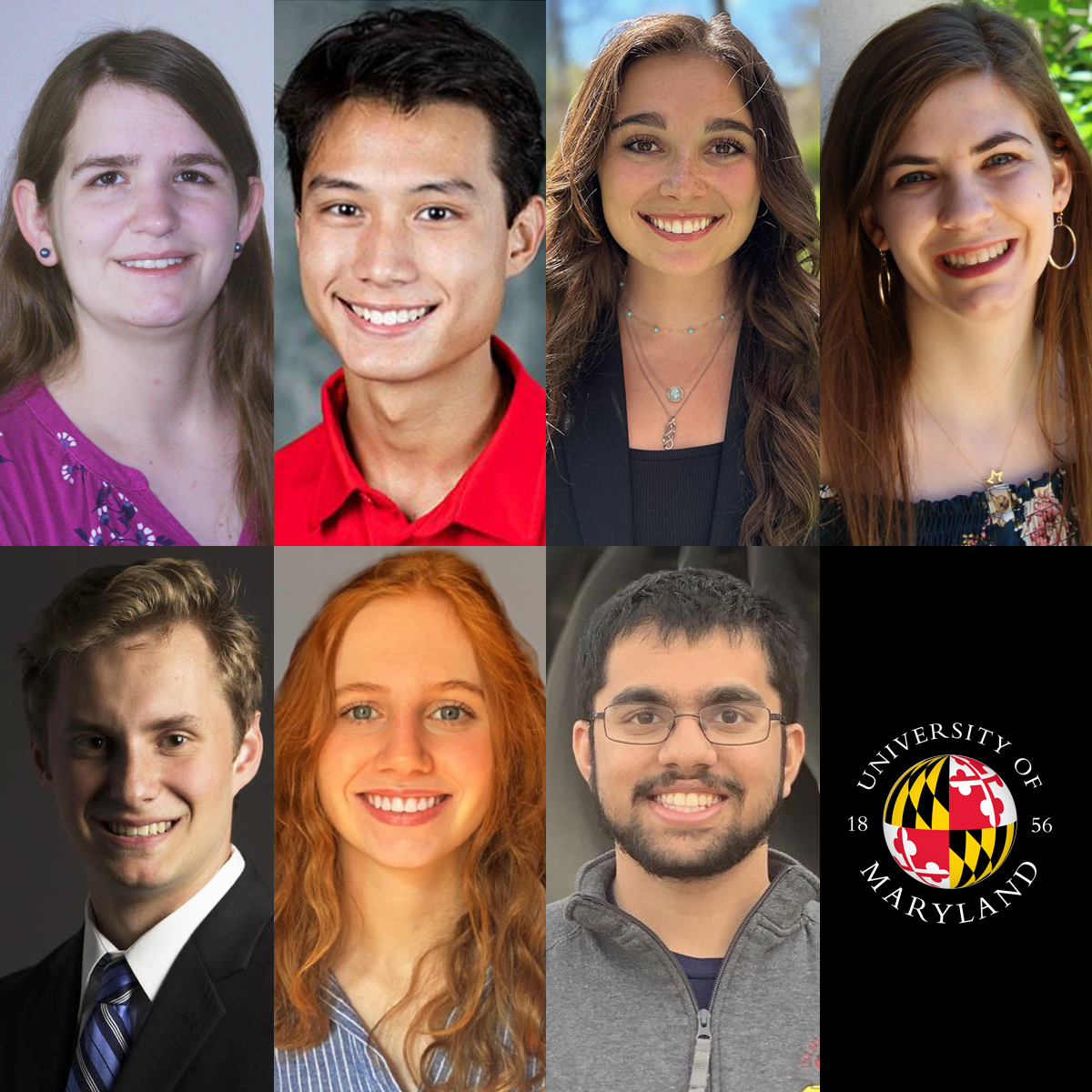 Seven University of Maryland (UMD) engineering students were among the 22 individuals announced as 2023 Vertical Flight Foundation (VFF) scholarship award recipients. VFF is the philanthropic arm of the Vertical Flight Society (VFS), the world's only international technical society for engineers, scientists, and others working to advance vertical flight technology.
"Since 1977, our Vertical Flight Foundation Scholarships have helped inspire generations of students to pursue careers in vertical flight, with many now holding leadership positions in industry, academia, and government, with 667 scholarships awarded to date," said VFS Executive Director Mike Hirschberg in the award press release.
VFF Scholarships recognize the world's most talented engineering students pursuing work in vertical flight.
2023 UMD VFF Scholarship Recipients
Victoria Britcher (Ph.D. student, Aerospace Engineering) received the Dr. Friedrich Straub Scholarship.
Britcher is a second year Ph.D. student in aerospace engineering currently conducting research on vision-based shipboard landing under the supervision of Dr. Anubhav Datta. She completed her bachelor's in mechanical engineering with a minor in robotics, as well as her master's in mechanical engineering, from Carnegie Mellon University.
Her master's research focused on biologically inspired sensing for micro-aerial vehicles. After completing her Ph.D., she plans on continuing work in the areas of autonomous rotorcraft and unmanned aerial vehicles.
Peter Capozzoli (Junior, Aerospace Engineering) received the Walter J. Hodgson Scholarship.
Capozzoli is a member of Dr. Anubhav Datta's rotorcraft lab where he is involved in eVTOL and Mars Helicopter research as well as being a part of the Honors College and Department of Aerospace
Engineering honors program. Outside of academics, Peter runs on UMD's varsity track team.
He aims to contribute to the exploration of space, and is fascinated by the exploration of Mars.
"One of the most exciting modes of exploring this planet is the Mars Helicopter which Dr. Datta's lab is doing research on," explained Capozzoli, adding, "Receiving this scholarship from the Vertical Flight Foundation encourages me to continue pursuing eVTOL research and eases the financial burden of my undergraduate studies, which will hopefully provide me the knowledge and experience to contribute to space exploration in my future."
Catherine Catrambone (Senior, Aerospace Engineering) received the Hal Andrews Scholarship.
Catrambone is studying aerospace engineering under the research direction of Dr. Anubhav Datta. Her research currently focuses on the performance advancement of the Mars helicopter, an ongoing project through the Alfred Gessow Rotorcraft Center.
Her undergraduate honors research thesis centers around a proof-of-concept regarding the structural and aerodynamic design of blades meant for flight on Mars versus blades meant for flight on Earth, and she will be attending graduate school this fall to pursue her Ph.D. in aerospace engineering.
"The VFF scholarship will contribute to my ability to choose the best program that matches my interests," said Catrambone. "I aim to one day become an industry leader tackling the next generation of bold problems within the field of aeronautics and astronautics."
Colleen M. Murray (Ph.D. student, Mechanical Engineering) received the Virasak Family Scholarship.
Murray received both her bachelor's in mechanical engineering (2019) and master's in materials science (2020) from the University of Delaware. She is currently a graduate research assistant under the advisement of Dr. Norman Wereley in the Composites Research (CORE) Laboratory where her research focuses on the energy absorption capabilities of additively manufactured honeycomb and lattices and syntactic foams for use in crashworthiness applications.
After completing her Ph.D., Murray plans to continue her research on the mechanical characterization of composite materials while teaching.
Nathan O'Brien (Ph.D. student, Aerospace Engineering) received the Dr. Alfred Gessow Scholarship.
O'Brien works under Dr. Anubhav Datta in the Alfred Gessow Rotorcraft Center, where his research focuses on the study and mitigation of tiltrotor whirl flutter through experimental analysis of the Maryland Tiltrotor Rig.
"I have been at UMD for a year and a half now, and have loved it!" said O'Brian. Looking ahead, he aims to work in industry, NASA, or research labs continuing groundbreaking work in the field of VTOL engineering, adding, "I hope to eventually become an effective program manager of large research projects or vehicle development."
Gabrielle Schumacher (Junior, Aerospace Engineering) received the Joseph P. Cribbins Scholarship.
Schumacher has worked in the Composite Research Laboratory (CORE) for the last two years with faculty mentor Dr. Norman Wereley. Her research has focused on increasing the crashworthiness in hollow glass microsphere reinforced composites by varying the volume fraction of microspheres as well as matrix material and sphere types.
Schumacher had the opportunity to speak on her research at the SAMPE Conference and Exhibition last spring as well as at the AIAA YPSE conference this past November. In the future, she hopes to apply the knowledge she has gained through her lab experience in an Industry job focused on improving safety in aeronautics.
Vivek Uppoor (Ph.D. student, Aerospace Engineering) received the Jimmie S. Honaker Scholarship.
Uppoor, a first year Ph.D. student in aerospace engineering, graduated with his B.S. in aerospace engineering from UMD in 2022. Working under Dr. Inderjit Chopra at the Alfred Gessow Rotorcraft Center, he is researching high-advance ratio aeroelastic stability of coaxial and compound rotor systems using smart structure actuators. His prior research included designing and optimizing morphing camber wings using various 3D printing technologies.
In the bigger picture, Uppoor is passionate about aircraft design and intends to enter the VTOL industry to work on initial-stage vehicle development after completing his Ph.D.
"My career goals include becoming a conceptual design engineer in the rotorcraft/VTOL industry after completing my Ph.D. at Maryland," said Uppoor. "I aspire to innovate new VTOL aircraft designs that can be developed into groundbreaking vehicles in the future, and this scholarship expands my connections to the professionals working in the rotorcraft industry, whom I can learn and improve from."
The Vertical Flight Foundation will recognize its 2023 scholarship recipients during the VFS Grand Awards Program to be held on Thursday, May 18, 2023, in West Palm Beach, Florida during the Vertical Flight Society's 79th Annual Forum & Technology Display.
Published April 13, 2023