Senior, Brad Johnson receives two distinctions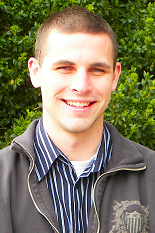 Bradley Johnson
, a senior undergraduate honors student, is the recipient of the presitigous 2007 National Defense Science and Engineering Graduate (NDSEG) Fellowship from over 3,400 applications that were received this year. He will receive a monetary award in the amount of over $90,000 for the next three years.
The NDSEG Fellowship is sponsored and funded by the Department of Defense (DoD). NDSEG selections are made by the Air Force Research Laboratory/Air Force Office of Scientific Research (AFRL/AFOSR), the Office of Naval Research (ONR), the Army Research Office (ARO), and the DoD High Performance Computing Modernization Program Office (HPCMP). The American Society for Engineering Education (ASEE) administers the NDSEG Fellowship. The NDSEG Fellowship will cover his tuition and required fees for three years at any accredited U.S. college or university that provides advanced degrees in science and engineering. http://www.asee.org/ndseg/
Johnson is also the Masters recipient of a Vertical Flight Foundation Scholarship. It is a $2,500 award. The Vertical Flight Foundation was established in 1967 as the philanthropic arm of the American Helicopter Society. Governed by a Board of Trustees, the Foundation's operation is made possible solely through voluntary tax-deductible contributions. In 1977, the Foundation established a scholarship program for promising undergraduate and graduate students who plan to pursue careers in vertical flight.

http://www.vtol.org/vff.html
In addition, Brad Johnson has officially accepted his admission to the University of Maryland's Department of Aerospace Engineering's doctoral program for the Fall 2007 semester.
Published April 10, 2007