New Milestones in Medical Deliveries by Drone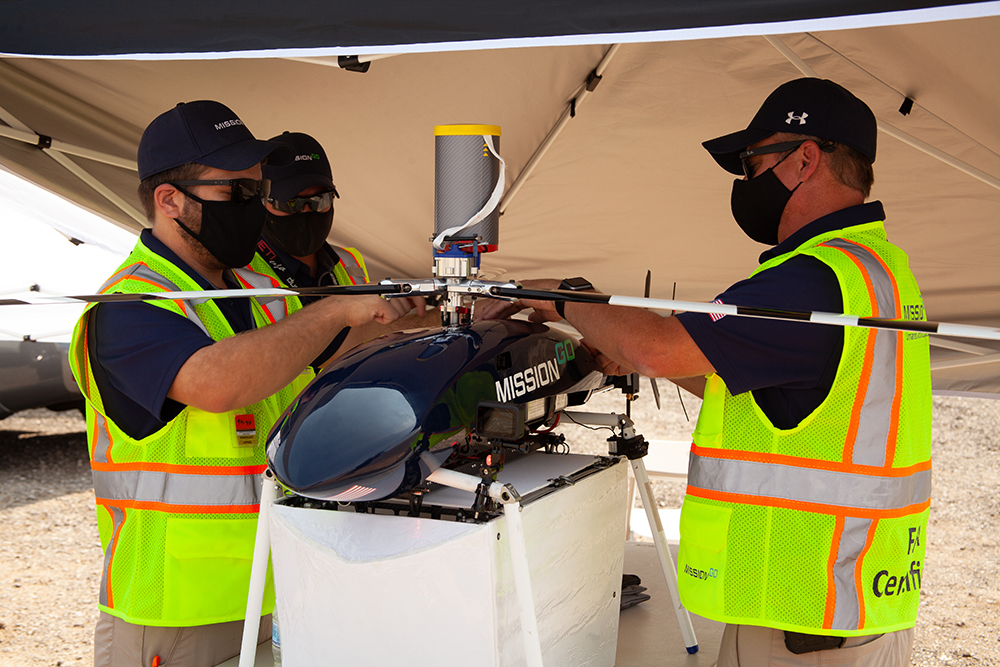 In April 2019, unmanned aviation pioneers Anthony Pucciarella and Ryan Henderson were part of the University of Maryland (UMD)/University of Maryland Medical Center (UMMC)/University of Maryland School of Medicine (UMSOM) team that conducted the first-ever delivery of a transplant organ by drone—a breakthrough that could help revolutionize a process long plagued by logistics challenges.
Now, they are celebrating a new set of milestones.
Pucciarella, former operations director of the University of Maryland UAS Test Site, today is president of co-founder of MissionGO, a Baltimore-based company that also includes businessman Scott Plank '88 and Dr. Joseph Scalea, who transplanted the organ after the 2019 flight and conceived of the idea of UAS transport of organs, as co-founders. Henderson also works at the company, which along with its partner Nevada Donor Network, conducted two successful test flights in the Las Vegas area.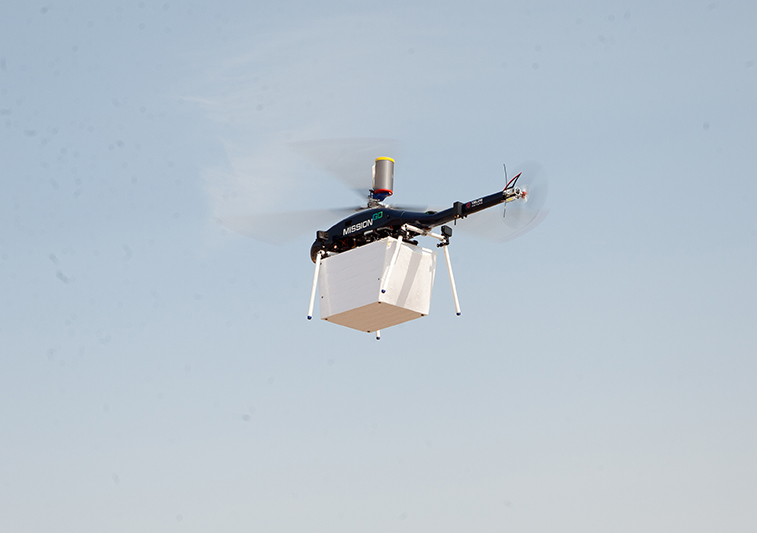 One flight transported research corneas from Las Vegas's Southern Hills Hospital and Medical Center to Dignity Health—St. Rose Dominican, San Martín Campus, located nearly three miles away. The second, which delivered a research kidney from an airport to a location outside of a small town in the Las Vegas desert, marked the longest organ delivery flight in UAS history. At over 10 miles, it exceeded the distance achieved during the 2019 UMD/UMMC/UMSOM organ flight, in which a live kidney was flown approximately three miles and successfully transplanted into a patient. Pucciarella and Henderson, then in their prior roles at the UMD Unmanned Aircraft Systems (UAS) Test Site, were instrumental to the success of that mission.
"This is a thrilling example of the research-to-entrepreneurship model that we cultivate at UMD," said Matt Scassero, UMD UAS Test Site director. "Our goal at the Test Site is to test applications for UAS technology that can yield real benefits to individuals and communities, and then do the hard work of rigorously testing the concepts and transforming them into practical applications."
"We establish the foundations that allow enterprising companies like MissionGO to take the process to the next level," Scassero said.
Incorporating unmanned aircraft into the organ delivery process has the potential to yield multiple benefits, he noted: besides shortening the time between donation and transplant, and avoiding the delays associated with transport by conventional aircraft, electric-powered drones and a more efficient on-demand distribution system could mean a reduced carbon footprint. "These advancements align well with the University of Maryland's mandate as the nation's first Do Good campus," he said.
Pucciarella described the latest set of flights as "another step forward."
"The research conducted during last week's test flights are another data point to illustrate that unmanned aircraft are a reliable mode of transportation for life-saving cargo, and that MissionGO's UAS are safe for both the payload and people on the ground – even at greater distances," he said. The company plans additional test flights in 2021 in partnership with organ procurement organizations across the country. For more information, visit www.missiongo.io.
Photos by Phenola Lawrence (REQ). Used by permission.
Published October 1, 2020