Nayak, Redhal Receive Outstanding Research Assistant Awards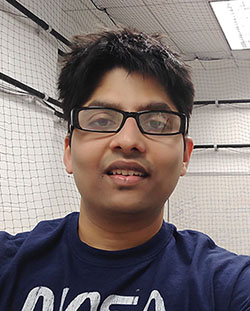 The Department of Aerospace Engineering congratulates doctoral students Sharan Nayak and Shikha Redhal, both of whom have been recognized by the University of Maryland's (UMD) Graduate School with Outstanding Research Assistant Awards. These university-wide awards are conferred each year to the top 2% of UMD's more than 4,000 graduate students.
Sharan works with UMD assistant professor of aerospace engineering Michael Otte on sampling-based kinodynamic motion planning of autonomous robotic systems. Shikha works with Professor Kenneth Yu on studying the fundamental nature of Rotating Detonation Engine propulsion concepts to understand the effect of injector dynamics on detonation propagation.
Sharan and Shikha will be recognized at the Annual Graduate School Fellowship Award Celebration in May.j
Published January 8, 2021