Dynamic Futures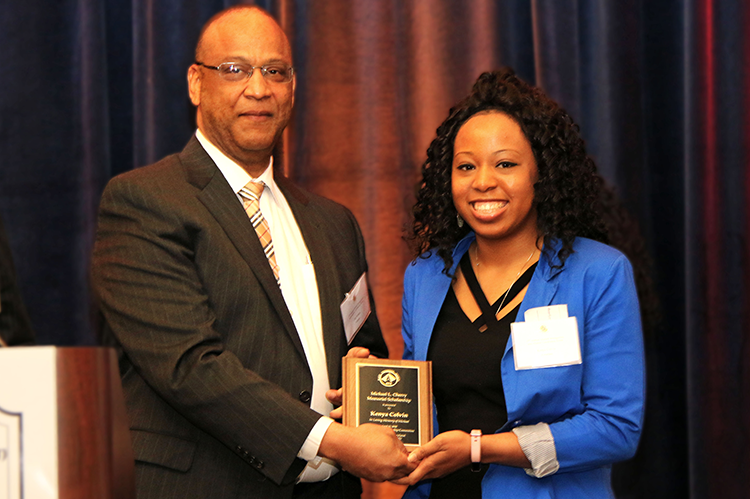 On April 15, the A. James Clark School of Engineering's Center for Minorities in Science and Engineering (CMSE) and the University of Maryland chapters of the Black Engineers Society (BES) and the Society of Hispanic Professional Engineers (SHPE) hosted the 37th Annual Student Recognition and Alumni Celebration to honor the academic achievements of the Clark School's diverse student body.
With more than 300 attendees and 106 honorees, this year's event was themed "Dynamic Futures" to both recognize the accomplishments of minority students and alumni and to encourage their pursuits of academic excellence.
In his opening remarks, Darryll Pines, dean of the Clark School and Nariman Farvardin Professor of Aerospace Engineering, spoke of his joy for the annually increasing number of students recognized for the academic honors of Dean's List. "Each year when I come to this event, it makes me so proud," he said of growing student achievements.
Renee Reynolds ('00 electrical engineering), a member of the Celebration Host Committee, also spoke at the event to bestow her wisdom to this year's recognized students.
"The key that I want you to understand is you're going to have moments of weakness where you doubt yourself, where you question whether you made the right choice in engineering. CMSE is your support system. Use them," Reynolds advised. "You might need a tutor. You might need financial aid. Or you might just need someone that will believe in you even when you are not quite sure that you believe in yourself. Just don't give up. This situation is temporary, but the degree is forever."
Reynolds stressed the importance of maintaining good grades, being unafraid to ask for help, and actively seeking out internships. Of her own experiences and lessons learned, she said, "I was not given internships, and I was not given scholarships. Those, I had to earn."
BES and SHPE also gave presentations on the accomplishments of their organizations over the past school year. BES participated in various successful events including Torch Saturdays, Black Hack, Clark School Initiative, Limitless, Fall Terror Zone Summit, and the National Society of Black Engineers (NSBE) 44th Annual Convention.
SHPE, represented by Keyanna Franklin ('18 chemical and biomolecular engineering), presented their initiatives on community and professional development, achieved this year through social, volunteer, and career-building events.
"This academic year, I was determined to take SHPE to the next level," said Franklin, current president of the organization. "To do that, new forms of communication were implemented such as a community calendar of events and a heavier emphasis on social media."
A former recipient of the prestigious Banneker/Key Scholarship, Franklin was recognized at the event as a graduating senior with Academic Excellence for a 3.0 Cumulative GPA. Inspired by her identity as half African-American and half Nicaraguan, Franklin is a first-generation college student and a first-generation American citizen on her mother's side.
"After a long journey to self-empowerment and self-love," she said, "the opportunity to defy stereotypes motivates me."
Oscar Pimienta ('19 fire protection engineering), also a member of SHPE and honored with Academic Excellence for a 3.0 Cumulative GPA, works as an outreach and recruitment program assistant with CMSE.
"I believe that the work I do for the Center for Minorities in Science and Engineering creates a huge impact in our local community," said Pimienta. "We strive every day to create a supportive community for underrepresented minorities in the fields of STEM, and everything we do is with the goal of eventually increasing the number of underrepresented minorities who are STEM professionals."
The event recognized more than just academic achievements. Also awarded during this celebration was the Michael L. Cherry Scholarship Award, given this year to Kenya Colvin ('18 chemical and biomolecular engineering) for her commitment to outreach and helping others. The M.L. Cherry Committee awarded Colvin with $3,000—the largest sum for this scholarship to date.
Colvin, an undergraduate researcher in the Fischell Department of Bioengineering, has been involved in numerous organizations, programs, and leadership roles during her time at the Clark School, including BES, the Louis Stokes Alliance for Minority Participation (LSAMP) Program, Clark School Ambassadors, and A Scholar's Program for Industry-Oriented Research in Engineering (ASPIRE).
"Knowing that any success I achieve could open a door of opportunity for or encourage an underrepresented minority student like me motivates me to do my best," she said.
Soliver Fusi ('18 chemical and biomolecular engineering), transfer student from Prince George's Community College and recipient of Academic Honors for her 3.5 Cumulative GPA or higher, is another student who believes that her work can inspire other female minority students. Recipient of multiple scholarships such as the Charles E. & Joan M. Waggner Scholarship and William W. Destler Scholarship in Engineering, Fusi has been extremely active on campus as the Academic Excellence Chair of BES, holder of several officer positions with Omega Chi Epsilon, and president of the Chem-E-Car team, to which she has been extremely dedicated during her time at Maryland.
"My participation in [Chem-E-Car] was pivotal to retention here at Clark, as well as to my mission of empowering young minority women," said Fusi. "Through Chem-E-Car, I was able to express to young women at the annual DREAM Conference hosted by the Women in Engineering program, among other events, that they belong in engineering, they belong at the forefront of organizations, and they belong wherever they see fit."
The annual celebration concluded with an invocation by I'Shea Boyd ('20 electrical and computer engineering), a member of both BES and the LSAMP program and recipient of Academic Honors for her 3.5 Cumulative GPA or higher.
"I realized it's the people who make UMD a home away from home," said Boyd as she reflected on her support system at the Clark School. "The students and faculty of CMSE provided me with encouragement, support, and opportunities during my time at [Maryland]."
Published April 26, 2018