Weiner Wins Sikorsky Aircraft Fellowship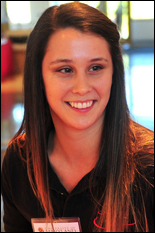 Department of Aerospace Engineering graduate student Elizabeth Weiner receives the 2014-2015 Sikorsky Aircraft Fellowship. The fellowship awards the recipient $10,000 to support educational expenses.
Weiner is currently focusing on research to improve speed capabilities in rotorcraft as a means to improve flight time for emergency medical and trauma flights. According to Weiner, rotorcraft are extremely well suited to medical transport tasks due to their vertical take-off and landing capabilities (VTOL)—making rotorcraft speed one of the key factors in saving a life.
In particular, she is evaluating advances in materials engineering—such as composite tailoring—that could lead to dramatic innovations in highly loaded aerospace structures, such as rotorcraft blades in high-speed flight. She is also looking into the little explored area of shape-shifting rotors. Shape-shifting rotors capable of changing their geometric characteristics, such as twist or chord length, mid-flight, could increase rotor efficiencies, and in turn allow for faster, more efficient vehicles. Faster, more efficient aircraft could make a huge impact on the number of lives saved by VTOL vehicles.
Recently, Weiner was also awarded the 2014 Amelia Earhart Fellowship from Zontia International, a global organization of executives and professionals working to advance the status of women worldwide through service and advocacy.
The Sikorsky Fellowship, established in 2011, awards an outstanding Ph.D. candidate in mechanical, electrical, computer or aerospace engineering. Sikorsky selects finalists from a pool of nominated students and the winner is chosen by the Clark School Graduate Advisory Council.
Check out what else is going on in Aerospace Engineering by following us on Facebook!
Published August 15, 2014