Choi promoted to Associate Research Scientist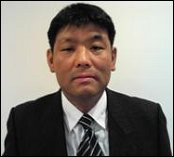 Congratulations to Young-Tai Choi who was promoted to Associate Research Professor on May 2nd, 2013.
Young-Tai Choi has served in the department as Assistant Research Scientist for 14 years. He received his B.S., M.S., and Ph.D. degrees in Department of Mechanical Engineering, Inha University in Korea in 1992, 1994, and 1999, respectively. He joined the Smart Structures Laboratory in the Alfred Gessow Rotorcraft Center at the University of Maryland in 1999. He has conducted the design, testing, and control of passive, semi-active, and active systems and structures with key components of smart materials such as magnetorheological fluids and piezoelectric materials. In addition, he has explored the design and analysis of novel energy harvesting devices using smart materials. He has co-authored 44 contributions to journals and 51 papers to international conference proceedings. He is co-inventor on 4 U.S. patents and 1 patent pending. He was awarded the ASME Adaptive Structure and Adaptive Materials Best Paper Award (2004). He was a leading member of the Boeing Rotorcraft Active Crash Protection System Development Team, which was awarded the Harry T. Jensen Award (2011) from the American Helicopter Society in recognition of an outstanding contribution to the improvement of helicopter reliability, maintainability or safety through improved design.
Published May 3, 2013