Healy promoted to Senior Lecturer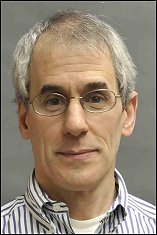 Congratulations to Liam Healy on his promotion to Senior Lecturer!
Dr. Liam Healy is a research physicist in the Mathematics and Orbit Dynamics section of the Control Systems Branch of the Naval Center for Space Technology at the Naval Research Laboratory in Washington DC, a senior lecturer in aerospace engineering at the University of Maryland, and an associate editor of the Journal of Guidance, Control, and Dynamics. He holds a Ph.D. in physics from the University of Maryland. He specializes in computational and algorithmic applied mathematics with applications to dynamics, celestial mechanics, astrodynamics, and space robotics. He works on problems in cluster flight dynamics, space surveillance, space debris, orbit determination, and trajectory planning for collision avoidance. He has been a lecturer with the department since 2000.
Published May 3, 2013