Celebrating Black Engineers: Hermann Kaptui Sipowa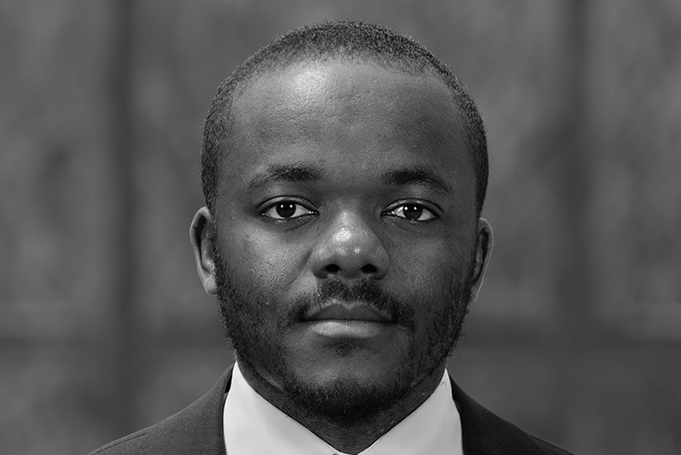 In celebration of Black History Month, the Department of Aerospace Engineering is highlighting some of our talented and diverse alumni through a series of stories sharing their journeys and advice for aspiring aerospace engineers.
Hermann Sipowa is a senior systems engineer at Draper Laboratory, where he develops GNC algorithms to support various strategic programs. Hermann graduated with a B.S. in aerospace engineering in 2017 from the University of Maryland, College Park, and went on to earn his Ph.D. in aerospace engineering in 2022 from the University of Colorado Boulder. He is affiliated with the Aerospace Corporation, the Air Force Research Laboratory, and NASA Langley Research Center. Hermann's interests include working out, hiking, rock climbing, and reading.
Where/how did you get started on your aerospace engineering journey?
I grew up in Cameroon, and becoming an aerospace engineer was so far-fetched an idea that it never crossed my mind. After graduating from high school, however, I had the opportunity to immigrate to the United States, and I was determined to obtain the best education I could afford. I attended a community college that offered an aerospace curriculum. I remember being fascinated by everything I learned in the classroom and intrigued by the endless exciting careers related to the field.
In 2015, I transferred to the University of Maryland and participated in the UMD Junior Endeavor Transfer (JET) Program. The JET program confirmed my love for aerospace engineering by complementing theoretical knowledge with the fun of working as a team to develop, launch, recover, and analyze the data collected by a high-altitude balloon. The program also helped me create valuable connections that kick-started my career as a researcher and an academic.
Who/what inspires you?
The most influential people in my life have always been my parents. My parents lost their careers after immigrating and had to start from scratch. They worked hard to make sure we could have what they never had. Their brave attitude toward adversity inspired me to chase my dreams and never relent when dealing with failures or facing setbacks.
What has helped you succeed in your Aero journey?
I was lucky to be surrounded by a village of people who believed in me and gave me various opportunities to accomplish my dreams.
What advice would you offer current students?
Be curious, talk to as many people as possible about your dreams, and never be afraid of failure.
What have been some of your greatest personal/professional successes?
Completing my Ph.D., mentoring students, and interning at many renowned companies.
Published February 22, 2023