Awais Raza Receives Golden Key Boeing Scholarship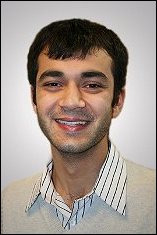 Awais Raza, an undergraduate student conducting research under the guidance of Professor Derek Paley, has recently been awarded a Golden Key International Honor Society Boeing Scholarship. The amount of the award is $1000 and Awais was one of four recipients of the 2009 scholarship.
Upon receiving the award Awais commented, "It is a matter of honor for me to be deemed worthy of the 2009 Boeing Engineering Scholarship Award. Being one of the few selected from a large pool of applicants worldwide is no less than a privilege, and I would like to thank The Boeing Company and Golden Key International Honor Society for providing such a great opportunity to students around the globe. This generous scholarship will contribute towards my school related expenses while I pursue my Bachelors of Science degree in Aerospace Engineering at the University of Maryland, College Park."
Awais is currently a senior in the department.
For more information on the Boeing scholarship recipients and Golden Key International Honor Society visit their website.
Published December 15, 2009