Alumnus Griffin President-Elect of AIAA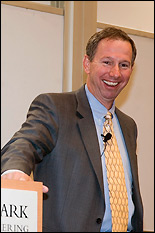 Clark School alumnus Michael Griffin (Ph.D. '77, aerospace engineering), former administrator of NASA, is president-elect of the American Institute of Aeronautics and Astronautics (AIAA) board of directors.
The Clark School's Department of Aerospace Engineering Chair Mark Lewis is current AIAA president.
With more than 31,000 members, AIAA is the world's largest professional society devoted to the progress of engineering and science in aviation, space, and defense.
Griffin will begin his term as president-elect on May 12. His term as president of the organization will be in 2012. He will be president for two years. For more information, see the AIAA press release (opens PDF).
Published April 19, 2011