Aerospace Alumnus Publishes New Book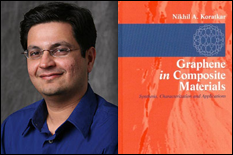 Department of Aerospace Engineering alumnus Nikhil Koratkar (M.S. '98, Ph.D. '00) has published a new book entitled "Graphene in Composite Materials: Synthesis, Characterization and Applications." Koratkar's book provides an overview of graphene within carbon chemistry alternatives available to materials engineers. He also shows how different forms of graphene can be synthesized and added to polymer composites as main or hybrid nanofillers, with a focus on how graphene affects electrical and mechanical properties.
Graphene is a crystalline form of carbon, and is very strong, light, nearly transparent and an excellent conductor of heat and electricity.

After completing his doctoral work at the University of Maryland, Koratkar joined Rensselaer Polytechnic Institute's Department of Mechanical, Aerospace and Nuclear Engineering as an assistant professor in 2001. He was named associate professor in 2006 and full professor in 2009, and in 2012, Koratkar was named the John A. Clark and Edward T. Crossan Professor of Engineering. He also holds a joint appointment as a full professor in Rensselaer's Department of Materials Science and Engineering.
For more information on Koratkar, visit his website.
Published November 6, 2013