UMD's Team Gamera Sets New Record for Human Powered Helicopter Flight Duration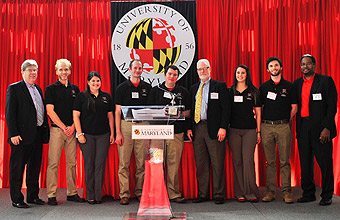 COLLEGE PARK, Md. – University of Maryland students from Team Gamera have unofficially set a world record of 97 seconds for the duration of a human powered helicopter flight.
The announcement came at an event on Saturday, October 26 celebrating the team's accomplishments, which was attended by senior officials from the Sikorsky Aircraft Corporation, United Technologies Corporation, the American Helicopter Society (AHS) International, as well as University of Maryland President Wallace Loh. At the same event, Sikorsky and United Technologies Corporation representatives presented a trophy and a check for $50,000 to honor the team's achievements.
"The outstanding achievements of Team Gamera's record-breaking flights with their human powered helicopter as part of the AHS Sikorsky Human Powered Helicopter Competition are a perfect example of how a grand challenge to do the impossible can spark innovation and learning," said Vice President of Research and Engineering of Sikorsky Aircraft Corporation Mark F. Miller.
Team Gamera's groundbreaking flight surpasses the previously submitted duration flight record of 86 seconds by the Canadian Aerovelo Team, which took place just two days before the Team Gamera flight. Team Gamera's 97-second flight time has been submitted to both the National Aeronautic Association (NAA) and the Fédération Aéronautique Internationale, and certification is expected for a new U.S. and world record.
NAA officials were on hand to witness the record-setting flight, which was achieved on September 25, 2013 during a final round of testing the team performed at the Prince George's County Sports and Learning Complex in Hyattsville, Md. Team Gamera had recently recruited new test pilots, including competitive cyclist Justin Mauch, who powered the helicopter on its 97-second flight.
"Reaching this new unofficial flight duration record is a testament to the fearlessness of our engineering students," said Clark School Dean and Farvardin Professor of Aerospace Engineering Darryll Pines. "They continue to push the extremes of what is considered possible for human powered helicopter flight."
At the celebration event on October 26 at the University of Maryland's College Park campus, Team Gamera's achievements and contributions to human powered helicopter flight and rotorcraft innovation were honored, as well as their contributions to the University of Maryland community.
Since August of 2008, the Gamera Team has been engaged in an ongoing effort to advance innovation in human powered helicopter flight. The team has included more than 100 undergraduate and graduate students from the University of Maryland's A. James Clark School of Engineering. The students, along with their faculty advisors Inderjit Chopra and V.T. Nagaraj, have collectively invested thousands of hours into the project, as the group has continued to reach new landmark achievements over the past five years.
The team's achievements began with a world record for human powered helicopter flight duration of 4.2 seconds in May 2011. From that first, small step, the team slowly built on their accomplishments, pushing the boundaries of what was thought to be possible in their chase for the AHS Sikorsky Prize, which promised $250,000 to the first human powered helicopter team that could achieve a 60-second flight that reached 3 meters, or about 10 feet in height, while hovering in the same 10 x 10 meter area. Team Aerovelo, inspired by Gamera's early achievements, ultimately won the prize, but the Gamera Team has again raised the bar with their flight duration record.
During the same round of flight attempts last month, Team Gamera also achieved an unofficial U.S. record for human powered helicopter flight duration by a female pilot with a 38-second flight piloted by Kay Tsui.
"The AHS Sikorsky Prize wasn't intended to produce a practical human powered helicopter," said Executive Director of AHS International Mike Hirschberg. "We set up the prize to inspire the next generation of vertical flight pioneers, and we were tremendously successful in this goal. But, perhaps unexpectedly, the world was inspired even more by the incredible accomplishments of the University of Maryland's Gamera team."
The celebration event for Team Gamera capped the end of Mpact Week, a four-day showcase highlighting the University of Maryland's innovations in engineering. For more information, visit www.eng.umd.edu/mpact.
For More information:
Video of Team Gamera's 97-Second Flight: http://youtu.be/1TCCj_sf8_A
Gamera Project Website: http://www.agrc.umd.edu/gamera/index.html

Alfred Gessow Rotorcraft Center: http://www.agrc.umd.edu/
Published October 31, 2013