Wereley Named AHS Technical Fellow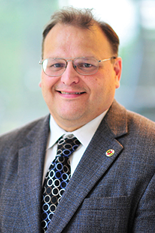 The American Helicopter Society (AHS) promoted Department Chair and Minta Martin Professor of Aerospace Engineering Norman M. Wereley to AHS Technical Fellow. This is one of the highest honors bestowed upon a professional member of the AHS.
AHS recognized Wereley for his extensive contributions to research in crash safety, as well as smart structures technology for rotorcraft. His contributions in crash safety have focused on areas of adaptive magnetorheological—a type of smart fluid—seating systems to protect occupants from excessive body vibration and crash loads, adaptive magnetorheological landing gear systems and the commercial transitions of these university-based projects to industry and flight tests for the U.S. Navy.
His work in smart structures technologies for rotorcraft include developing trailing edge flap systems for full scale rotors using pneumatic, artificial muscle actuation systems and adaptive lag dampers for rotor stability augmentation, as well as advanced vibration control algorithms to exploit capabilities enabled by these smart structures and materials technologies.
Wereley received the 2011 AHS Harry T. Jensen Award as a member of the Active Crash Protection Team (Boeing, Goodrich, University of Maryland and U.S. Army RDECOM), and he co-authored the AHS 2012 Best Paper Award in Crash Safety.
During his career, Wereley has made extensive contributions to research, mentorship, education, innovation and commercialization of rotorcraft science and technology, especially in the areas of active and passive energy absorbing systems, and their applications to rotorcraft. He is the co-inventor of 18 patents in these areas and he is currently working closely with industry and government laboratories to commercialize many of these technologies
In addition to being an AHS Technical Fellow, Wereley is also a fellow of the American Institute of Aeronautics and Astronautics (AIAA), the American Society of Mechanical Engineers (ASME), the International Society for Optics and Photonics and the Institute of Physics. He received the 2012 ASME Adaptive Structures and Material Systems Prize and the 2013 SPIE Lifetime Achievement Award in Smart Structures and Materials.
Published March 11, 2015