Wasmer, Torok to Receive Alumni Honors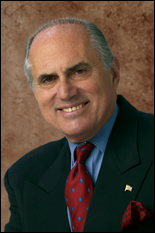 On Saturday, two Clark School alumni will receive awards at the Alumni Association's annual awards gala.
Pedro E. Wasmer, B.S. '62, civil engineering, will receive the Tyser Gottwals Award for his service to the university. Wasmer, who retired last year as CEO of Somerset Capital Group Ltd., is a member of the Clark School Board of Visitors and a trustee of both the University of Maryland College Park Foundation and the University System of Maryland Foundation.
Michael S. Torok, M.S. '85 and Ph.D. '89, aerospace engineering, will receive the Distinguished Engineering Alumnus award. Torok is chief engineer for U.S. Marine Corps programs for heavy lift helicopters for Sikorsky Aircraft Corp. He is the recipient of many awards from the helicopter industry. He is already a member of the Department of Aerospace Engineering's Academy of Distinguished Alumni.
For more information about the gala and the awardees, please visit the Alumni Association's web site.
Published April 9, 2008