U.S. News Ranks Undergraduate Program 10th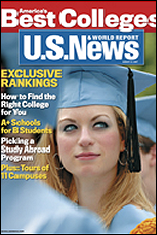 Clark School's Department of Aerospace Engineering Highly Ranked
The recently released U.S. News & World Report 2008 edition of "America's Best Colleges" ranks the undergraduate Aerospace Engineering program at 10th in the nation, and 6th among public institutions, with doctoral degrees. The aerospace engineering program has ranked 10th consistently over the last four years.
The Clark School of Engineering's undergraduate program as a whole ranked 25th in the nation, unchanged from last year's ranking. The Clark School ranks 13th in the nation among public engineering programs.
The 2008 ranking of the Graduate Aerospace Engineering Program is 11th in the nation. Graduate program rankings are released each April.
Published August 21, 2007