UROC Promotes Drone Safety at Maryland Day Event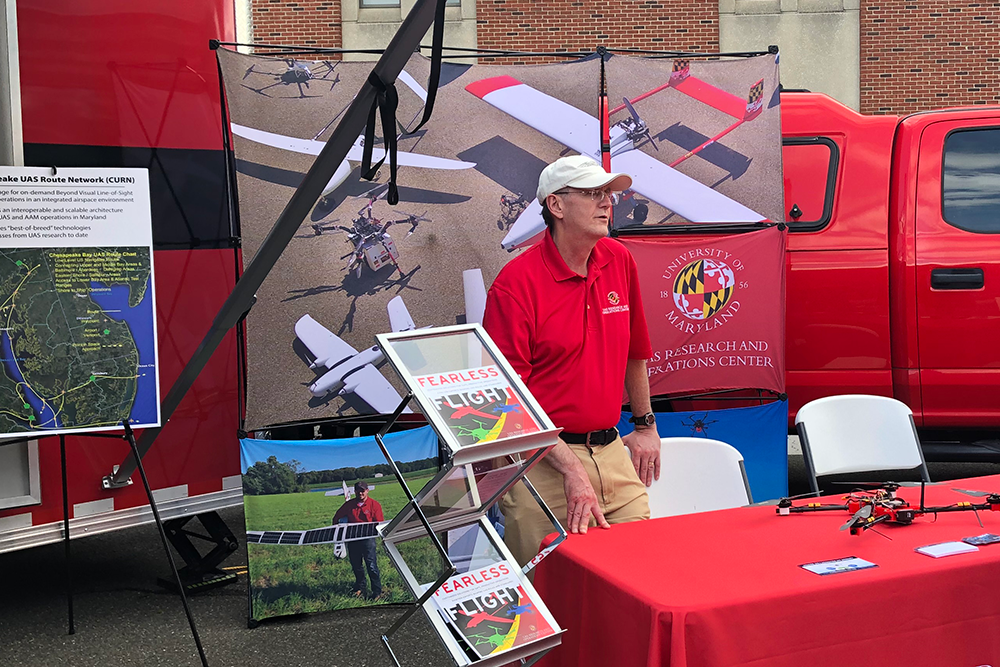 With uncrewed aircraft, popularly known as drones, becoming more widely utilized, safe operation is paramount. The University of Maryland's (UMD) UAS Research and Operations Center (UROC), which has been helping to pioneer a wide range of drone applications, has been a leader in developing operational best practices that reduce risk and promote safety.
On April 29, UROC personnel were on-site at UMD's annual Maryland Day festival to help promote National Drone Safety Day, which is organized each year by the Federal Aviation Administration (FAA) to drive home the importance of safe and responsible drone operation.
The FAA has been promoting this message through its FlyRIGHT campaign, which stresses five crucial steps that a UAS user should take: Register your drone, Interact with others, Gain Knowledge, Have a Safety Plan, and Trust and Train.
"Over decades, we've built the safest airspace in the world, and the FAA would like to keep it that way," said Jim Alexander, UROC project manager and chief safety officer. "There are a lot of drones out there, and not all users see themselves as pilots. But flying a drone comes with a pilot's responsibilities, because we're all sharing the same airspace. You need to know the roles and regulations."
During the Maryland Day event, Alexander said, he was able to share information with several drone hobbyists about the registration process and the required free safety test.
"Many visitors came away with information they hadn't known about previously," he said.
In addition to promoting drone safety, the UROC team also briefed Maryland Dav visitors on activities and resources at the center, which is located at St. Mary's County Regional Airport in California, MD. Together with partners in industry, government, and defense, UROC has been involved in spearheading a wide range of applications, from calibrating sea ice measurements to search and rescue.
UROC–then known as the UMD UAS Test Site–made international headlines in 2019, when it conducted the first-ever delivery by drone of a live organ for transplant into a waiting patient.
Maryland Day, held on UMD's College Park campus, draws more than 80,000 visitors each year. The event features live entertainment and hundreds of booths highlighting activities and programs at the university.
Published May 10, 2023