UMD Launches New Labs for Infrastructure Education and Research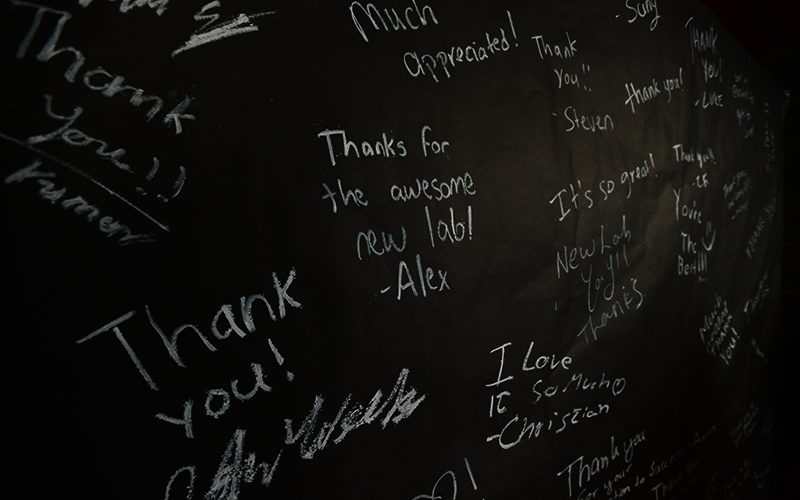 This week the University of Maryland (UMD) Department of Civil and Environmental Engineering (CEE) formally opened a suite of state-of-the-art laboratories dedicated to understanding the behaviors of steel, asphalt, soil composites, and other infrastructure design materials. The Whiting-Turner Infrastructure Engineering Laboratories will serve as a catalyst for innovation in areas including bridge and roadway safety, infrastructure resilience, and transportation systems development.
The facility features six laboratories totaling more than 7,000 square feet and furnished with the latest equipment and software for conducting geoenvironmental, materials, soils, pavement, and structural testing.
"Our civil engineering students will benefit from both hands-on and virtual learning opportunities made possible by this facility," said Charles Schwartz, CEE professor and chair. "Civil engineering is a tactile field. For students to be successful, they need direct interaction with the materials, testing techniques, and instrumentation used in infrastructure design, construction, and performance monitoring."
Named for its largest contributor, the Whiting-Turner Infrastructure Engineering Laboratories are home to two critical courses: Fundamentals of Engineering Materials, a required course for all CEE undergraduates, and Experimental Methods in Geotechnical and Structural Engineering, which is required for the roughly 60 percent of students enrolled in the department's Geotechnical and Structural Engineering track. With the facility's industry-grade equipment and software, the latter class alone will enable around a hundred students a year to master quality assurance testing techniques for infrastructure construction and learn cutting-edge nondestructive evaluation approaches for monitoring the structural health of bridges, buildings, and other critical infrastructure assets.
"Hands-on education is still critically important even in today's high-tech world for understanding what our classroom education means in the real world," said The Whiting-Turner Contracting Company President and CEO Timothy Regan during the September 17th launch event. "All of us at Whiting-Turner are very proud of our history of collaboration both with the University of Maryland and the Clark School of Engineering, and we are looking forward to much more history together as the University continues to produce generations of outstanding engineers."
The facility will also support student-led research in geotechnical and structural engineering as well as provide much-needed space and equipment for the concrete canoe team, part of the university chapter of the American Society of Civil Engineers, to test, mix, and build entries for the annual National Concrete Canoe Competition.
These laboratories are also made possible through the generosity of 17 additional organizations and alumni, including Richard L. Vogel, Jr. and Dr. Stefanie N. Vogel. Their contribution to establish the Richard Vogel Materials and Soils Testing Laboratory is their fifth endowed fund at UMD.
Additional donors include the Maryland Asphalt Association; Scott Greenhaus; Gutschick, Little and Weber; KCI Technologies Inc.; Joe Makar; Maryland Chapter–American Concrete Institute; Wallace Montgomery; Whitman, Requardt and Associates; Whitney Bailey Cox & Magnani; Forrester Construction; GeoConcepts; Global Resource Recyclers; Mercado Consultants Inc.; VIKA; and Wiss, Janney, Elstner Associates Inc.
Published September 19, 2018