Three Aerospace Engineering Students Receive ASPIRE Awards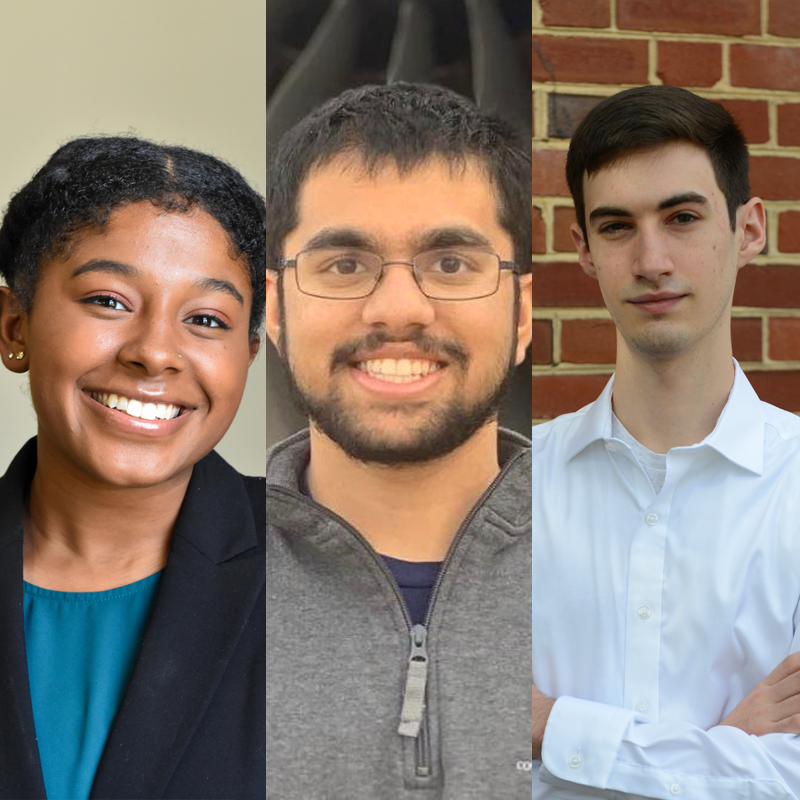 Aerospace engineering students Rachel Harvey, Ben Stutzke, and Vivik Uppoor have received ASPIRE awards. The Maryland Technology Enterprise Institute (Mtech) ASPIRE program supports undergraduates in broadening their educational experience through direct involvement in real-world engineering research projects.
Harvey is a junior currently working on the Development of 3D Printed Honeycombs for Energy Absorption Applications with Dr. Norman Wereley and Dr. Min Mao. The implementation of buckling initiators into honeycomb structures enables them to more efficiently absorb energy, decrease their initial peak stress, and allow for densification at a higher strain.
Harvey has participated in the NASA X-Hab and RASC-AL competitions with her Gemstone Honors Research team, ASTRO.
"This award will help me on my track to a master's degree, which I hope to obtain in Aerospace Engineering," said Harvey. "My future career goals are to work to better deep space technology in either composites or aerostructures."
Stutzke is a sophomore currently researching multi-material 3D printing for use in morphine wings, and the ASPIRE scholarship will help him continue getting valuable research experience so he can pursue his goal of a Ph.D. in aerospace engineering with an interest in propulsion technology and computational aerodynamics.
"Working on developing a morphing wing prototype has to be the most interesting thing that I've done as an aerospace student," explained Stutzke. "The multi-material 3D printing technology involved in creating the prototype is very experimental and there are plenty of engaging technical problems to overcome over the course of the project. I think that the more free-form nature of working on the project has made it more interesting because it involves a level of independence that I've yet to encounter in my classes."
Stutzke was able to work on every phase of the project from conception to construction with minor supervision, and he found watching the design evolve over time very satisfying.
Uppoor is a sophomore researching actuation methods for morphing wing structures using pneumatic artificial muscles.
"The ASPIRE award will support my academic goals with much-needed direct research experience," said Uppoor. "[Working on the morphing wing project] allows me to appreciate the content I have learned in my engineering classes as they apply directly to the motion components that I design and fabricate. This research has given me the opportunity to learn through my own iterative design process instead of a structured unit-based timeline in classes."
According to Uppoor, learning through his own struggles and successes throughout the engineering process has been invaluable in helping him gain his own engineering 'style.'
Uppoor aims to earn a Ph.D. in aerospace engineering with a focus on aerodynamic design and structures and join the aeronautical design industry working in initial aircraft design as part of an aerospace development company.
Published March 13, 2020