Three Aero Students Awarded NSF Graduate Research Fellowships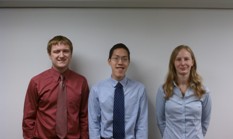 Harrison Chau, Robin Klomparens, and Sean Symon, graduating seniors, have been awarded NSF Graduate Research Fellowships. The NSF Graduate Research Fellowship Program (GRFP) recognizes and supports outstanding graduate students in NSF-supported science, technology, engineering, and mathematics disciplines who are pursuing research-based master's and doctoral degrees at accredited United States institutions. As the oldest graduate fellowship of its kind, the GRFP has a long history of selecting recipients who achieve high levels of success in their future academic and professional careers.
Fellows benefit from a three-year annual stipend of $30,000 along with a cost of education allowance for tuition and fees in the amount of $10,500, opportunities for international research and professional development, and the freedom to conduct their own research at any accredited U.S. institution of graduate education they choose.
Harrison Chau is a senior majoring in Aerospace Engineering and Economics with a 3.93 GPA. He is a member of the Gemstone Honors Program, the University Honors Program, and the Aerospace Departmental Honors Program. He has worked for Dr. Leishman researching rotorcraft aerodynamics. He is a member of Tau Beta Pi and Engineers Without Borders.
Robin Klomparens is a senior Aerospace Engineering Honors student. She has interned at the Arnold Engineering Development Center, Hypervelocity Wind Tunnel No. 9 in White Oak, MD since her sophomore year. Her work focused on acoustic noise measurements and shock tunnel design. Robin was accepted into the Aerospace Engineering PhD program at the University of Michigan. She will be studying shock-boundary layer interactions with Dr. Driscoll and Dr. Gamba.
Sean Symon, from Ellicott City, Maryland, is a senior Aerospace Engineering student and maintains a 3.91 overall GPA. Sean is also working towards a second major in French Language and Literature as well as a minor in Violin Performance. Outside the classroom, Sean works as an undergraduate research assistant and undergraduate teaching fellow with one of the L-3 Graduate Fellows in the Composite Research Laboratory. He is also a member of both Phi Beta Kappa and the University of Maryland's Tau Beta Pi chapter of which he is the current president. In terms of music, Sean is a member of the Peacherine Ragtime Orchestra and the University of Maryland Symphony Orchestra. Upon graduation in May 2012, he plans on attending the California Institute of Technology to earn his Ph.D. in Aerospace Engineering with his main focus in structures.
Published May 23, 2012