Matthew Rich Named 2012-2013 Philip Merrill Presidential Scholar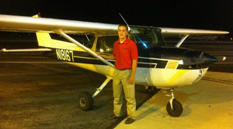 Matthew Rich was named one of the 2012-2013 Philip Merrill Presidential Scholars. Merrill Scholars and their mentors are honored in a ceremony to highlight academic excellence, teaching, and mentoring as scholarships are awarded in the K-12 teacher's name to a new first year student from that teacher's school district. As part of his nomination, Matthew named his high school calculus teacher and theater director, Mr. Thomas Sankey as being one of the most positive influences in his life. Matthew also named the Department of Aerospace Engineering's Dr. Mary Bowden as his faculty mentor expressing his appreciation for her dedication to her students.
Matthew Rich is an Aerospace Engineering Honors and University Honors student in the astronautics track. He works for Dr. Inderjit Chopra in the Alfred Gessow Rotorcraft Center on flapping wing research and has completed internships at the Johns Hopkins University Applied Physics Laboratory. He also volunteers as a mentor for America Counts.
Published May 23, 2012