Syal and Hocking Named Winners in Dean's Research Award Competition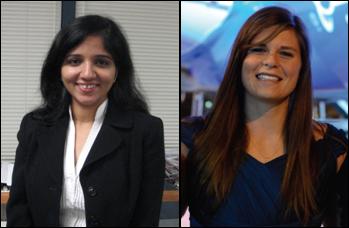 Aerospace graduate students Monica Syal (PhD) and Erica Hocking (MS) have placed 3rd and 2nd in the 2012 Dean's Research Award Competition. Dean Pines created both the Dean's Doctoral and Master's Student Research Award Competitions to give top Clark School graduate student researchers special recognition that will be valuable in launching their careers, and to show all students the importance of high quality engineering research.
For placing in the competition, Monica will receive $500 for her research on the computational modeling of the dual-phase rotorcraft brownout problem and Erica will receive $1000 for her research to develop and characterize small-scale actuators based on pneumatic artificial muscle technology.
Congratulations to Monica and Erica!
Published May 17, 2012