Staruk Receives 2017 Alex Brown Leadership Award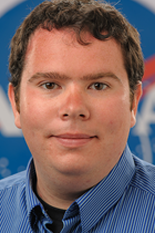 Aerospace engineering Ph.D. student William Staruk was named the 2017 Alex Brown Leadership Award recipient.
Established in 2011, the Alex Brown Leadership Award honors the memory and achievements of the late Alex Brown, who was a Ph.D. candidate in the Aerospace Engineering program. Well known for his energy and great leadership potential, Brown was optimistic and upbeat, and even under intense pressure, radiated positive feelings that created resonance. He inspired others through courage and hope, and he encouraged others to continue the quest for success and innovation.
Staruk is a Ph.D. student in the Alfred Gessow Rotorcraft Center working under the advisement of Distinguished University Professor Inderjit Chopra. He received his B.S. in aerospace engineering from the University of Notre Dame in 2010 and his M.S. from the University of Maryland in 2012.
During his time at Maryland, Staruk has served as the project manager for the Gamera Human Powered Helicopter team, where he was a key leader and conducted innovative helicopter research. He was also a member of the winning 2012 AHS Student Design Competition team.
He has been an active participant in the American Helicopter Society (AHS) International Student Chapter and the Graduate Student Advisory Committee. In addition, as an AHS member, he has participated in many outreach events such as the annual Engineering Family Day at the National Building Museum in Washington D.C., Boeing's Annual Engineers week at their facility in Ridley Park, Pa., and Become a Pilot Day and Helicopter Super Science Saturday at the National Air and Space Museum.
Staruk has been an active representative for helicopter research at Maryland—especially the Gamera project— presenting to many student groups, local elementary and high schools, prospective engineers through WIE, and the National Capital Wing of the Civil Air Patrol.
He is the recipient of a prestigious NASA Aeronautics Scholarship Program Graduate Fellowship, as well as Vertical Flight Foundation Scholarships. He has also made excellent progress in research, as demonstrated by publishing five papers at AHS meetings, including a paper on the Gamera project that won the Best Paper Award in Advanced Vertical Flight at the 2013 AHS Forum.
Staruk is the fifth recipient of the Alex Brown Leadership Award. Past winners include alumni Andrew Becnel (Ph.D. '14) and current Ph.D. students Elizabeth Weiner, Elena Shrestha and Stephen Sherman.
Published May 19, 2017