South Pole Defense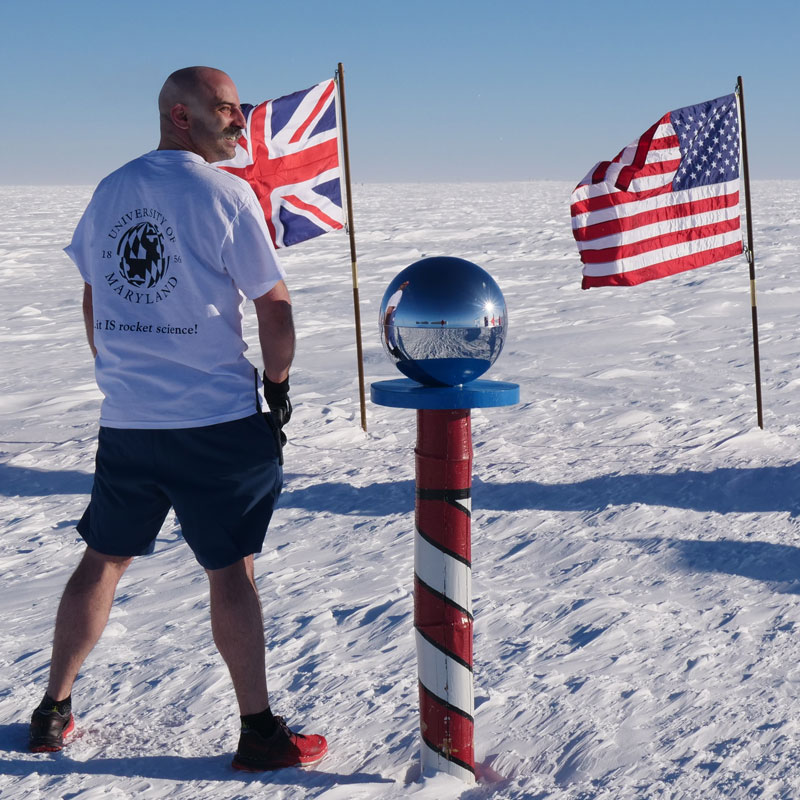 Completing a Ph.D. is challenging enough, but add in some of the world's worst weather, limited internet access, perpetual darkness in the winter and a 13-hour time difference with your university, and it's just another day at the South Pole for aerospace engineering student Thomas Leps.
Working as a "satcom" engineer at the Amundsen–Scott South Pole Station—the United States' scientific research station at the South Pole—Leps not only completed his University of Maryland doctorate remotely, but did so while ensuring that the station's satellite connections run smoothly during their operational windows, regardless of the time.
"I'm up when the satellites are up, even when it's running from 3 a.m. to 8 a.m.," said Leps, who even managed the satellite connections during his own virtual thesis defense in the early hours of Oct. 20.
Leps and the station crew think his is the first Ph.D. ever defended from the South Pole. He said he couldn't have balanced his academics and work duties without the support of that crew, which he said has a strong sense of community. "When I needed to run extra simulations, the South Pole Telescope crew let me use their servers, and when it came time to defend, over one-third of the station came out to support me, even though it ran past 3 a.m. here!"
Before coming to Maryland, Leps completed his B.S. in math and physics at Fort Lewis College studying black hole thermal dynamics and went to work as a lab director for the college's physics and engineering department. There, he helped develop a new accredited engineering degree—which became popular with nontraditional and Indigenous students—and worked as a professional adviser for the school's Engineers Without Borders program.
"I came to see how much engineering could affect people's lives, so I decided to switch my focus from cosmology and astrophysics to engineering when I was ready to look for graduate programs," Leps said. "I always had a passion for space exploration and its ability to bring together and inspire people from around the world."
At Maryland, Leps was one of the first graduate students in Associate Professor Christine Hartzell's Planetary Surfaces and Spacecraft Lab, which enabled him to design new experiments and develop proof of concept research.
"I couldn't have finished my Ph.D. without the support of the crew. It really highlights the community aspect of the South Pole. When I needed to run extra simulations, the South Pole Telescope crew let me use their servers, and when it came time to defend, over one-third of the station came out to support me, even though it ran past three a.m. here!"
He also worked on a collaborative project exploring the application of magneto-rheological fluid (MRF)—a mixture of tiny iron particles suspended in a fluid that can transform from liquid to solid in the presence of a magnetic field—to a robotic gripper. Leps developed numerical simulations for the MRF reactions, which ultimately had applications in analyzing the behaviors of any magnetic dusts or grains—useful for understanding the behavior and shape of planetary bodies such as asteroids.
Leps' journey to Antarctica began when he applied as a "winterover" scientist for the station's IceCube Neutrino Observatory, a massive astrophysics experiment designed to observe cosmic neutrinos colliding with water molecules deep within the South Pole ice sheet.
When the pandemic hit, Leps was initially made an alternate for the position, training remotely while still hoping to land a spot on the team—the smallest winterover crew in more than a decade, with just 39 members.
He accepted the job of satellite communication engineer for the 2021 winter season, and soon discovered that life at the southernmost point of the Earth is surprisingly normal. Staff spend a month in isolation to ensure the station remains COVID-free, so it's goodbye to masks and social distancing.
During any free time, Leps and the crew enjoy astrophotography and auroraphotography, since due to low light pollution and 24-hour darkness, the Aurora Australis puts on a display almost every day. The extreme weather—including temperatures between -60 to -100 degrees Fahrenheit (colder than Mars) and wind chills plummeting to -130 degrees—leads some would-be photographers to get creative by rigging "camera boxes" fashioned out of foam insulation and filled with hot water bottles to prevent freezing during time-lapsed shots.
Leps will be returning to Antarctica for at least one more stint at the South Pole station before looking for space exploration work in either the private or public sector. He'll be the winterover scientist for the Bicep Array telescope next season, as well as the National Science Foundation's South Pole Science Lead. "The telescope searches the Cosmic Microwave Background (CMB) for polarization, a signature of primordial gravity waves and gravitational lensing of the CMB. They're even searching for evidence of the primordial black holes I did my undergraduate research on.
Published November 16, 2021