Sikorsky and United Technologies Pledge $1 Million to UMD's Clark School of Engineering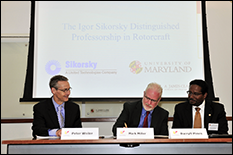 The University of Maryland (UMD) today announced that Sikorsky Aircraft Corp., along with its parent company, United Technologies Corp., have pledged one million dollars to endow a fund to create the Igor Sikorsky Distinguished Professorship in Rotorcraft at UMD's A. James Clark School of Engineering. Sikorsky Aircraft (NYSE: UTX), is a world leader in helicopter design, manufacture and service, headquartered in Connecticut, and is a subsidiary of United Technologies.
The Igor Sikorsky Distinguished Professorship in Rotorcraft will be part of UMD's Department of Aerospace Engineering and is intended to support enhanced research specialization in areas related to rotorcraft such as: autonomous flight operations, flight control and system identification, aeromechanics, composite structures and computer aided manufacturing.
Sikorsky's donation is aimed at expanding UMD's rotorcraft education and curriculum, research programs and intellectual capital to be a continuous source for the best rotorcraft engineers in the world. The endowment is part of an ongoing effort between Sikorsky and the Clark School to enhance UMD's robust rotorcraft program, and provides for continued support for developing not only cutting- edge technology for future helicopters, but also the next generation of innovative rotorcraft engineers.
"We are very grateful to Sikorsky and UTC for this generous investment in the Alfred Gessow Rotorcraft Center and our aerospace engineering program," said Clark School of Engineering Dean and Farvardin Professor of Aerospace Engineering, Dr. Darryll Pines. "Our partnership with Sikorsky has been a tremendously successful one, advancing innovation in rotorcraft education, research and technology development through our shared commitment to excellence."
Sikorsky is a committed Corporate Partner of UMD's Clark School of Engineering. Since 2011, the company has donated nearly $400,000 to support programs for Clark School students, such as scholarships, fellowships and the Sikorsky Aircraft Colloquium Series in Aerospace Engineering. To date, 42 Sikorsky awards have been made to UMD students.
"Sikorsky has seen a direct benefit from many of the best and brightest alumni of the University of Maryland who now are exceptional engineers and senior leaders at our company. As Sikorsky continues its leading role in redefining the future of vertical flight, what better way to extend the legacy of our founder than by supporting this professorship so that future innovators may join the broader mission of rotorcraft engineering," said Mark Miller, Sikorsky Vice President of Research & Engineering.
The Clark School is home to one of the world's leading programs in helicopter engineering. In 2013, Clark School students continued to set U.S. and world records for flight duration of a human-powered helicopter and have won the American Helicopter Society's graduate student design competition for the 12th time in 15 years.
A new senior faculty member will be hired to fill the Igor Sikorsky Distinguished Professorship in Rotorcraft. More information about the opportunity will be announced at jobs.umd.edu.
Published May 19, 2014