Ramasubramanian Receives Oates Propulsion Award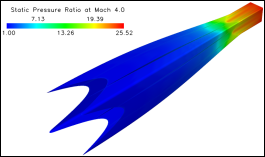 Aerospace engineering graduate student, Vijay Ramasubramanian has received the Gordon C. Oates Air Breathing Propulsion Award. The AIAA Air Breathing Technical Activities Committee presents this award, named in honor of the late Gordon C. Oates, a professor in the Department of Aeronautics at the University of Washington, to a graduate student conducting research in the field of air breathing propulsion.
Powered hypersonic flight has been classified as 'the future' of air vehicle design for well over 40 years. Compared to the rapid advancement of powered flight from the Wright brothers to Mach 2.0 and 3.0, hypersonic flight has proved more elusive. Numerous challenges - physical, financial, and political, have been difficult to overcome. However, in the past few years, researchers have been making steady progress in small steps. Ramasubramanian's research aims to add to the growing momentum in developing viable hypersonic vehicles that use the air in our atmosphere for propulsion - like a common jet engine does, but much much faster.
Specifically, Ramasubramanian's work focuses on the first major component of a hypersonic propulsion system that the air sees: the inlet. The inlet is responsible for capturing and slowing down the air which is used by the engine to produce thrust. If the inlet efficiency is not very high, then a practical hypersonic vehicle becomes less and less likely. He is working with inward-turning inlets derived from the Busemann flowfield. Such concepts have been receiving a great deal of attention lately from the high-speed aerospace community as one of the most promising hypersonic propulsion technologies.
Most of the research on inlets addresses performance at the design point. However, it is Ramasubramanian's belief that not only is good design point performance necessary, but the inlet must also perform well outside its design point, e.g., when the vehicle is accelerating or maneuvering. Thus he is exploring characteristics associated with robust, high-performance inlets, and what strategies to use when designing them.
On receiving the award, Vijay stated, "Receiving the Gordon C. Oates award is of course a tremendous honor. Dr. Oates was one of the first people to solidify the analysis and design of aircraft propulsion systems in textbook form, and was a student of the legendary Dr. Frank Marble of Caltech. I used Dr. Oates' textbooks as an undergraduate student, in my professional career, and now as a graduate student. It is quite humbling and motivating to be associated with his name and legacy."
Vijay is extremely thankful to faculty both within and outside of the Aerospace Department who have supported him in his career here, as well as his application for the award: Dr. Ryan Starkey (currently at the University of Colorado), Dr. Darryll Pines, and his advisor Dr. Mark Lewis.
Published October 1, 2009