Packy, Suriyarachchi, Thompson, Weerakoon, and Young are 2022-2023 MRC GRA Recipients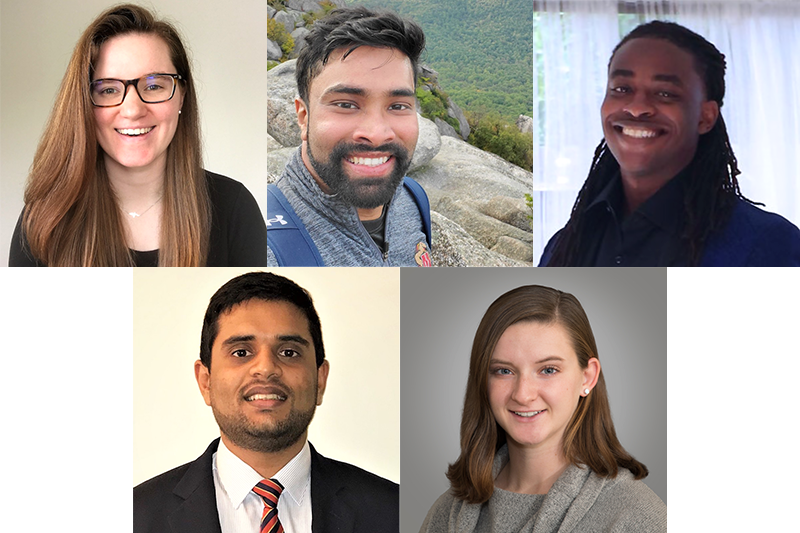 The Maryland Robotics Center's MRC Graduate Research Assistantship Program is open to mid-career UMD Ph.D. students whose advisors are members of the Maryland Robotics Center. The recipients of this award for the academic year 2022–2023 are:
Anna Packy, Kinesiology Department, advised by Associate Professor Rodolphe Gentilli


Chethana Nilesh Suriyarachchi, Electrical and Computer Engineering Department, advised by Professor John Baras
Anthony Thompson, Aerospace Engineering Department, advised by Professor Derek Paley


Lasitha Weerakoon, Mechanical Engineering Department, advised by Professor Nikhil Chopra


Olivia Young, Mechanical Engineering Department, advised by Assistant Professor Ryan Sochol
Anthony Thompson and Lasitha Weerakoon are supported in part by the Army Research Laboratory (ARL) under the ArtIAMAS cooperative agreement.
Congratulations to these students!
Applicants must be full-time students involved in ongoing research and their research must fall into one or more of the following research areas: multi-robot systems, medical robotics, miniature robotics, robotics for extreme environments, autonomous unmanned systems, bioinspired robotics, cognitive robotics or human-robot interaction. The assistantships provide a 12-month salary and benefits and follow established UMD GRA guidelines. Learn more about the program here.
Published March 29, 2022