Media Hover at Monocopter Demonstration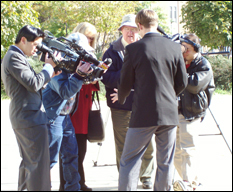 Local media outlets flocked to the Kim Building plaza today to capture images of a robotic device that can take off and fly with a propeller inspired by a samara or maple tree seed.
Read a story about the device online.
Video of the device is available with the press release online.
Photos from today's media event.
Links to news stories resulting from today's event will be listed here as they become available. WJZ 13 in Baltimore is aired their story during their 4 p.m. newscast on Tuesday. Other media outlets in attendance included Washington, D.C.'s NBC4, NewsChannel8 and FOX5, Baltimore's FOX45 and WBAL, and Capital News Service and the Congressional Quarterly.
Published October 20, 2009