Kurits and Veeraragavan win 1st place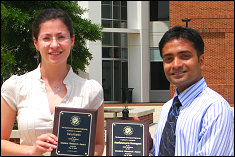 Inna Kurits(MS) and Anand Veeragavan(PhD) are the 2008 Aerospace Engineering Graduate Student Research Award recipients. The competition was held on May 16th in the Kim Building. The aerospace graduate student research awards are competitively awarded each calendar year to Ph.D. and M.S. students graduating within the same calendar year. These awards are intended to recognize the scholarly excellence and achievement by the cadre of graduate students in aerospace engineering.
Graduate students are judged on the following criteria;
(1) Oral Presentation before the awards committee (40%)
(2) Assessment of Scholarly Writings (40%) and
(3) Awards and Accomplishments (20%).
Students must be nominated by their research advisors for this award and have a minimum graduate GPA of 3.5. Advisors may nominate no more than 2 graduate students for these awards. Students must be nominated by April 1st of the academic year.
Best Doctoral Research Award: Anand Veeragavan - 1st Place = $1000 cash award and plaque
Best Masters Research Award: Inna Kurits - 1st Place = $500 cash award and plaque
Published May 19, 2008