Aerospace Alum Featured in High Mach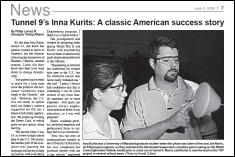 The Aerospace Testing Alliance publishes a monthly newspaper called
High Mach
; this month's edition has an article featuring aerospace department alumna Inna Kurits entitled, "Tunnel 9's Inna Kurits: A classic American success story." The article charts Kurits' journey as a teenager from Kharkov, Ukraine--who overcame a variety of challenges as an immigrant to the United States--to her successful career as an engineer. The article reveals Kurtis' "Horatio Alger" reserve and determination to be successful in her chosen field. Inna completed her BS and her MS in Aerospace Engineering.
Inna is featured on page seven of the June 5, 2009 issue of High Mach. Read the article here.
Visit the High Mach website to read additional issues and for more information.
Published June 22, 2009