Hocking MS'12 wins Master's Division at AIAA International Student Conference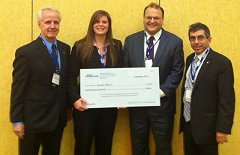 Ms. Erica Hocking is the winner of the Master's Division of the student paper competition at the 2013 AIAA International Student Conference. Master's students, each of whom were winners of one of the seven AIAA Regional Student Conferences including Europe, all presented their award winning papers and presentations on January 7, 2013. Ms. Hocking represented AIAA Region 1 as the winner of the 2012 AIAA Region 1-MA Student Conference. The AIAA International Student Conference is held concurrently at the 51st AIAA Aerospace Sciences Meeting, in Grapevine, Texas, at the Gaylord Texan Hotel and Convention Center. Her award winning presentation was entitled:
Fabrication and Characterization of Small-Scale Pneumatic Artificial Muscles for a Bio-Inspired Robotic Hand by Erica Hocking and N.M. Wereley
Ms. Hocking was presented with a check for $1000.
Congratulations to Ms. Erica Hocking on her outstanding paper, presentation, and award at the 2013 AIAA International Student Conference!
Published January 8, 2013