Knittel and DeVries among 2013 Future Faculty inductees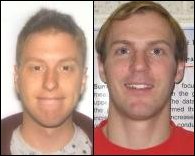 I first heard about the Future Faculty Program last fall and thought it was an exciting opportunity to learn more about a career in academia.
Jeremy Knittel and Levi DeVries were admitted into the 2013 Future Faculty Fellows program.
The Future Faculty Fellows program consists of a sequence of three one-credit training seminars, a teaching practicum and a research mentoring practicum. The goal of the program is to:
Increase the number of highly qualified teachers the Clark School produces for the world's engineering schools
Prepare selected Clark School doctoral students to achieve career-long success in the academic world as teachers and researchers
Provide selected students with a $3,000 travel stipend to present their research at professional conferences
Place selected students in leading institutions where their impact can be greatest and where they can continue to partner with the Clark School
Jeremy Knittel went to undergrad at UCLA, majoring in Aerospace Engineering and minoring in Political Science. He took a job at the NASA Dryden Flight Research Center following graduation, in their simulation group. For the two years Jeremy was at Dryden, he was responsible for simulation software development and operation for four different projects: Ikhana (a General Atomics Predator), F-16 Automatic Collision Avoidance Technology, Constellation Astronaut Training Facility, and Hypersonic Test Vehicle 2 (HTV2). He then began his post-graduate education at the University of Maryland, focusing on Hypersonics, under the tutelage of Drs. Mark Lewis and Kenneth Yu. His research, funded by a NASA Space Technology Research Fellowship, is in the area of vehicle and trajectory design for aero-assisted spacecraft missions.
Jeremy is extremely excited to be a part of the Future Faculty Program. Following the completion of his PhD, Jeremy hopes to maintain his love of fundamental aerospace research by pursuing a post-doc position and eventually a professorship.
Levi DeVries is currently in the fourth year of his Ph.D. program and has worked with Dr. Paley in the Collective Dynamics and Control Lab since beginning his studies at UMD in 2009. His research interests are in collective dynamics, nonlinear control, nonlinear estimation, and adaptive sampling. Levi has worked on two research projects in his time at UMD. The first project focuses on using cooperative control of multiple unmanned aircraft to target observations of tropical cyclones, for the purpose of improving hurricane forecasts. The second project has focused on implementing bio-inspired flow sensing and control for autonomous underwater vehicles.
Levi also won a Distinguished Teaching Award from the UMD Center for Teaching Excellence in Spring 2010. "He would be make an outstanding professor capable of balancing the demands of teaching and research," said Dr. Paley. "He has repeatedly demonstrated teaching excellence by serving as a teaching assistant in our department."
Congratulations Jeremy and Levi!
Published January 17, 2013