Gers Nominated for NASA Internship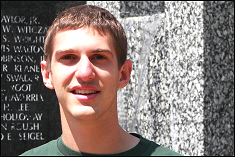 Congratulations to David Gers (AE senior) from the University of Maryland College Park on his selection as the American Institute for Aeronautics and Astronautics (AIAA) Region I-MA nominee for an NASA Undergraduate Internship.
New for this year, the selection process is based on the recommendations of each AIAA region's student conference committee, and the Student Paper Conference Chair(s). Each region may nominate one student per conference for a summer undergraduate internship at a NASA research center. Student nominations must be from students who attended and participated in the AIAA regional conference as presenters or conference organizers. NASA will select one student intern from the submitted names.
Published April 13, 2008