Communicating Across Unmanned Aircraft Systems in a Disaster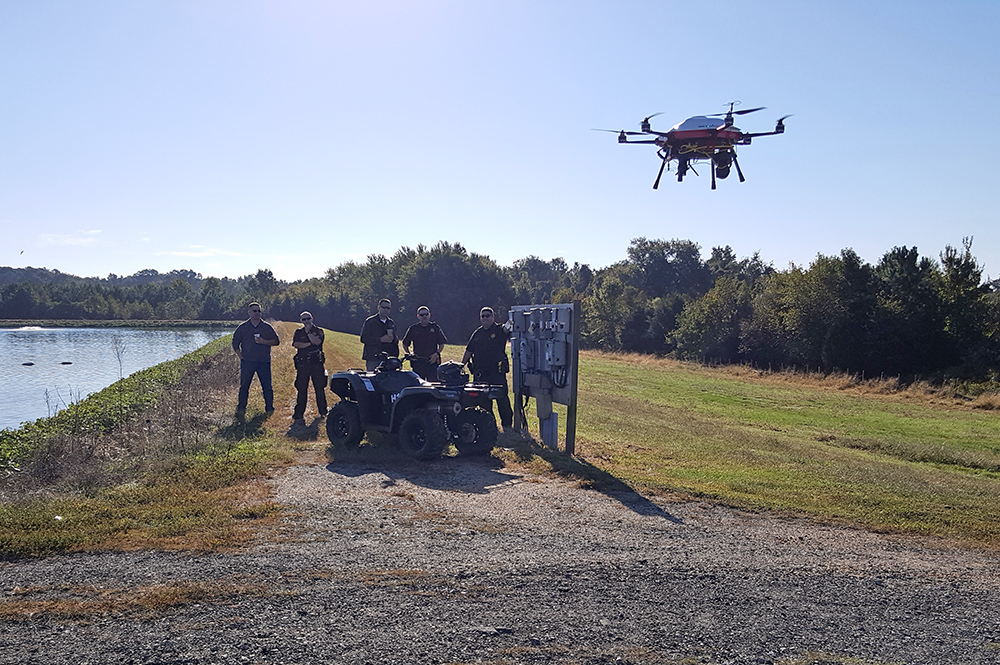 When roads wash out or communication lines are cut, first responders need swift, cost-effective, and safe ways to meet people's needs. Unmanned aircraft systems (UAS) are emerging as a versatile tool in the first responder arsenal. The University of Maryland UAS Test Site, along with partners from the public and private sector, are testing software and hardware that can help first responders communicate across multiple unmanned aerial vehicles in numerous locations in real time.
On October 13, 2016, at Cobb Island, Md., and Cambridge, Md., engineers from the UAS Test Site along with Charles County Emergency Medical Services (EMS) cooperated on a demonstration that tested the ANRA Technologies solution. ANRA is a cloud-based drone operation platform that allows real time flight management, flight tracking, planning, and and sensor data management and dissemination enabling multiple UAS operators to plan and remotely share video, pictures, and tracks.
"The ability to communicate in real time across platforms enhances first responder UAS efforts," said Matthew Scassero, Director of the UMD UAS Test Site. "We will continue to test communications network systems that facilitate this type of work."
Scenarios included a water rescue where first responders dropped self-inflating life preservers in Neale Sound near Cobb Island. Two preservers were dropped from UMD's "Water Rescue" multi-rotor UAS to simulated victims in two separate locations. First responders were able to interact with the UAS as well as across cell phones, laptops, and desktops to conduct mission-critical tasks.
"This demonstration is one of the many ways our department is working with UMD to better understand how to effectively and safely apply unmanned aircraft to support the services we provide the citizens of Charles County," said Chief John Filer of the Charles County Department of Emergency Services.
The ability to communicate in real time across platforms enhances first responder UAS efforts.
In another demonstration, a UAS equipped with a radiation sensor demonstrated the usefulness of using unmanned aircraft to monitor radiation levels in the event of a leak from a nuclear power plant. The Ace RAD unmanned aircraft was operated by a pilot from UAV Solutions from the UMD Shore Medical Center at Dorchester in Cambridge, Md. Charles County first responders viewed live video feed and radiation readings from the Ace RAD from more than 45 miles away.
"Shore Regional Health is happy to be a part of the development of leading-edge technology that can aid in potential disaster situations," says Michael Boldosser, Emergency Preparedness Manager at the University of Maryland Shore Regional Health. "By participating in these types of tests, Shore Regional Health is able to help explore new ways of using technology to keep our communities healthier and safer."
This demonstration highlights new ways to apply UAS technologies and helps us better understand the challenges of establishing communications in a post-disaster environment.
This is not the UAS Test Site's first collaboration with the first responder community. In August, the UAS Test Site and the UMD Shore Regional Health conducted the state's first civil unmanned aircraft delivery of medical cargo to demonstrate the key role that UAS can play in emergency situations.
Participating in the October 13 demonstrations were ANRA Technologies, UAV Solutions, Charles County EMS, Charles County Sheriff, University of Maryland Shore Regional Health. The Calvert County EMS and Maryland Institute for Emergency Medical Services Systems provided observers for the exercise.
Published October 31, 2016