Chopra Receives Inaugural Wang Shicun Award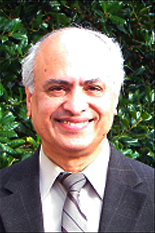 Aerospace Engineering Professor Inderjit Chopra was awarded the inaugural Wang Shicun Award at the 2nd Asian/Australian Rotorcraft Forum (ARF) and the 4th International Basic Research Conference on Rotorcraft Technology at Tianjin, China on September 12, 2013. Chopra received the award for his "outstanding work in education, research and development of rotorcraft technology."
Chopra has been a professor at the University of Maryland since 1981 and Director of the Alfred Gessow Rotorcraft Center since 1991. He is a distinguished fellow in the American Institute of Aeronautics and Astronautics, American Helicopter Society, Aeronautical Society of India, and the American Society for Mechanical Engineers. His research focuses on various fundamental problems related to the aeromechanics of helicopters.
The Wang Shicun Award was established by the ARF and is awarded annually to outstanding individuals working in the field of education, research and development of helicopter technology. The winner is selected by the ARF International Executive Committee and International Technical Advisory Committee during the ARF every year and is awarded the Certificate issued by the General Chairman of the ARF.
The award was named for the late Professor Wang Shicun, who was a distinguished helicopter pioneer in China and responsible for starting a rotorcraft program at Nanjing University of Aeronautics and Astronautics. He was a friend of late Professor Alfred Gessow, a University of Maryland professor and a pioneer in the helicopter field, and also the author of the famous classic, "Aerodynamics of the Helicopter."
For more information on Chopra, visit his faculty webpage.
Published January 6, 2014