Humbert Awarded Techno-Sciences Faculty Fellowship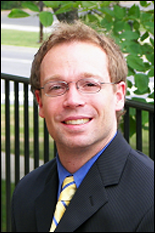 Aerospace Engineering Professor Sean J. Humbert was awarded the Techno-Sciences Faculty Fellowship and appointed to a three-year term as the Techno-Sciences Professor of Aerospace Engineering Innovation. The Techno-Sciences Faculty Fellowship is awarded to a tenured faculty member in aerospace engineering with outstanding contributions to innovation, research, and technology transfer in aerospace engineering.
Humbert is the associate director of the University of Maryland's MAST-CTA on Microsystem Mechanics and the director of the Autonomous Vehicle Laboratory (AVL) at the University of Maryland. He joined the University of Maryland as an assistant professor in the fall of 2005 and was promoted to associate professor in 2011. He holds a BS in Mechanical Engineering from the University of California, Davis, and an M.S. and Ph.D. in Mechanical Engineering from Caltech. Prof. Humbert's research interests are the intersection of dynamics, control, and estimation theory with bio-inspired sensing and locomotion. Recent work has focused on the flight mechanics and distributed sensing and estimation approaches in small-scale organisms.
He has received best paper honors from the American Institute of Aeronautics and Astronautics (AIAA) Conference on Guidance, Navigation and Control; the American Control Conference; and the International Conference on Insect Sensors and Robotics. Humbert recently won the AIAA National Capital Section Hal Andrews Young Scientist/Engineer Award and is the recipient of an Army Research Office Young Investigator Award.
The Techno-Sciences Faculty Fellowship consists of a Glenn L. Martin Medal and $5000/year in additional resources to be used for travel, equipment, patent fees or other needs. The award will be formally presented during a ceremony in the spring of 2014.
To learn more about Humbert and his research, visit his faculty webpage or the Autonomous Vehicle Laboratory.
Published January 6, 2014