Cadou Elected as AIAA Associate Fellow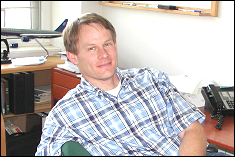 Dr. Christopher Cadou

, Associate Professor, has been elected to the grade of Associate Fellow of the American Institute of Aeronautics and Astronautics (AIAA). This grade is awarded to AIAA members who have demonstrated a successful practice in the arts, sciences, or technology of aeronautics.

Dr. Chris Cadou will be honored at the AIAA Foundation Associate Fellows Dinner in conjunction with the 46th AIAA Aerospace Sciences Meeting and Exhibit. There he will be presented with his Associate Fellow pin and certificate. The dinner will be held on Monday, 7 January 2008 in Reno, NV.
Published September 25, 2007