Army CTA MAST Center on "Microsystem Mechanics" is awarded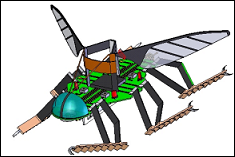 On February 25, 2008, the Army notified the Department of Aerospace Engineering at the University of Maryland that it has been awarded a MAST Collaborative Technology Alliance (CTA) Center on "Micosystem Mechanics." The total amount of the initial award is $10M over 5-years with an option for another five years with additional award of $12.5M. The objective of the MAST CTA is to perform enabling research and technology transition to enhance tactical situational awareness in urban and complex terrain by enabling the autonomous operation of a collaborative ensemble of multifunctional, mobile microsystems. To achieve this objective, the Alliance is expected to advance fundamental science and technology in several key areas including Microsystem Mechanics, Processing for Autonomous Operation, Microelectronics, and Platform Integration.
The proposed MAST CTA "Center on Microsystem Mechanics" will be coordinated through the Alfred Gessow Rotorcraft Center (AGRC) at the University of Maryland (UM), which will serve as the Principal Member. The three General Members are comprised of the University of California at Berkeley, California Institute of Technology (Caltech), and North Carolina A&T State University (HBCU school). In addition, two Supporting Member Universities comprised of the Harvard University and Georgia Institute of Technology (Georgia Tech), and two Supporting Member small businesses comprised of Centeye Corporation and Daedalus Flight Systems, Inc. will be part of the Center. Dr. Inderjit Chopra (Director AGRC) will be the Center Director with Dr.'s Fearing (Berkeley), Dickinson (CalTech), and Shivakumar (NCAT) serving as the leads and co-PIs of the three General Member institutions respectively. The vision of the Center is to pursue primarily bio-inspired microsystems, as well as selectively advance a few non-bio-inspired systems, and thereby develop radical design and engineering methodologies in which system-level performance, maneuvering and functional adaptability is emphasized over optimization of individual functions. Our unique teaming relationship between biologists and engineers brings together experts in the areas of aeromechanics, ambulation, and actuators and propulsion of small-unmanned aerial and ground vehicles to address fundamental mechanics issues towards the development of the next generation of highly maneuverable microsystems to successfully operate in both confined environments (such as building interiors, caves, and tunnels) and unconfined environments (such as battle zone perimeter defense), encompassing rough terrain and gusty wind conditions. Four exciting multidisciplinary mechanics themes that could potentially represent breakthrough methodologies and technologies for microsystem applications will be pursued, and these are (1) aeromechanics, (2) ambulation, (3) hybrid aeromechanics/ambulation, and (4) multifunctional, actuation and propulsion. The goal of this Center is to develop fundamental mechanics tools for innovative microsystems, which could result in a 'quantum jump' in performance, maneuverability, and functional adaptability from current levels.
At the University of Maryland, 10 faculty members and 3 senior scientists in the A. James Clark School of Engineering will participate in this research activity. Faculty members are: James Baeder, Chris Cadou, Roberto Celi, James Hubbard, J. Sean Humbert, Greg Jackson, J. Gordon Leishman, Ben Shapiro, Elisabeth Smela, Norman Wereley. Fifteen graduate students will be supported from this program. Dr. Darryll Pines, Chair of Department of Aerospace Engineering has played a vital role in the preparation of this proposal. In addition, AE staff members, Mr. Otto Fandino and Mr. Elton Howard were critical in aiding the team pull together the cost proposal.
Published March 3, 2008