Arace, Datta Land VFS Best Paper Award for eVTOL Research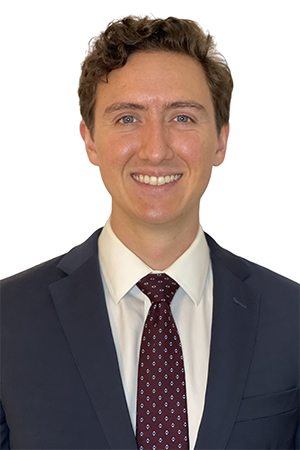 A new paper by UMD doctoral student Matt Arace and his advisor, Associate Professor Anubhav Datta, has received prestigious recognition from the Vertical Flight Society. It details research that could help spur the design of future hybrid-electric Vertical Takeoff and Landing (VTOL) aerial vehicles.

Arace and Datta presented the paper. "A Fundamental Understanding of Hybrid-Electric Power," at the VFS's 79th Annual Forum and Technology Display, which took place from May 16-19 in West Palm Beach, Florida, where it was named Best Paper from the eVTOL technical sessions.
The UMD researchers coupled a 3.43 kW 4-stroke piston engine to a generator and a rectifier to acquire basic data on power generation for hybrid-electric aircraft.They then developed a semi-empirical 4-stroke engine model, calibrated it with their test data, and were able to show that steady state performance of such an engine can be well predicted.
Engine specific fuel consumption (SFC) varies with both RPM and torque independently, not just power. In a hybrid system, RPM and torque correlate closely with output voltage and current so engine designers must understand what combinations of voltage and current lead to higher or lower fuel consumption for a desired power, the researchers found.
At the same time, engine SFC and generator efficiency, taken on their own, are inadequate metrics for representing the behavior of the integrated system. Rather than relying on these isolated metrics, designers must have a detailed understanding of engine-generator coupling as well as downstream power electronics which may have their own efficiency characteristics.

VTOL has drawn interest in recent years because of its potential to support on-demand aviation services, in addition to other civilian and military applications. But numerous technical barriers remain, including the development of clean, efficient, and reliable engine systems. Arace, Datta, and other researchers at UMD's Alfred Gessow Rotorcraft Center (AGRC) have been working to refine solutions to the various challenges.
"Hybrid-electric propulsion has the potential to enhance autorotation safety, reduce fuel consumption and emissions of vertical lift aircraft, and perhaps increase range and payload of multirotor uncrewed systems with smart power sharing," Arace said. "But it is not clear how. Our task is to find out through innovative engine testing, controls, and modeling. Unlike cars, an aircraft flies by overcoming induced power, not friction torque, so there is no regeneration nor can rotors be easily de-clutched and left unpowered."It is virtually an unexplored field, so it feels like every day we learn something new."
"We are grateful to our sponsors David Friedmann and Mahendra Bhagwat of the US Army DEVCOM, AvMC and the VLRCOE program PI Michael Vegh for entrusting us to pursue this cutting-edge research," he said.
Datta emphasized that the current study is part of a longer-term endeavor, with follow-up research already in progress.
"After fly-by-wire we are exploring power-by-wire. The goal is to enhance safety and reduce fuel consumption of future rotorcraft and train the graduate students who will lead us into that future," Datta said."Matt is an ideal example. He is already extracting basic data from a 3.5 kW rig, that he fabricated himself, that cannot be measured in flight. The Army, Navy, and NASA will be using this data to explore future configurations."
Housed at the UMD department of aerospace engineering, the AGRC is one of only three Vertical Lift Rotorcraft Centers of Excellence based at U.S. universities, with eVTOL and hybrid VTOL research continuing to be a focus area for many AGRC researchers.
Published July 11, 2023