Alumni-Run Company Vertex Aerospace Establishes New Scholarship in Engineering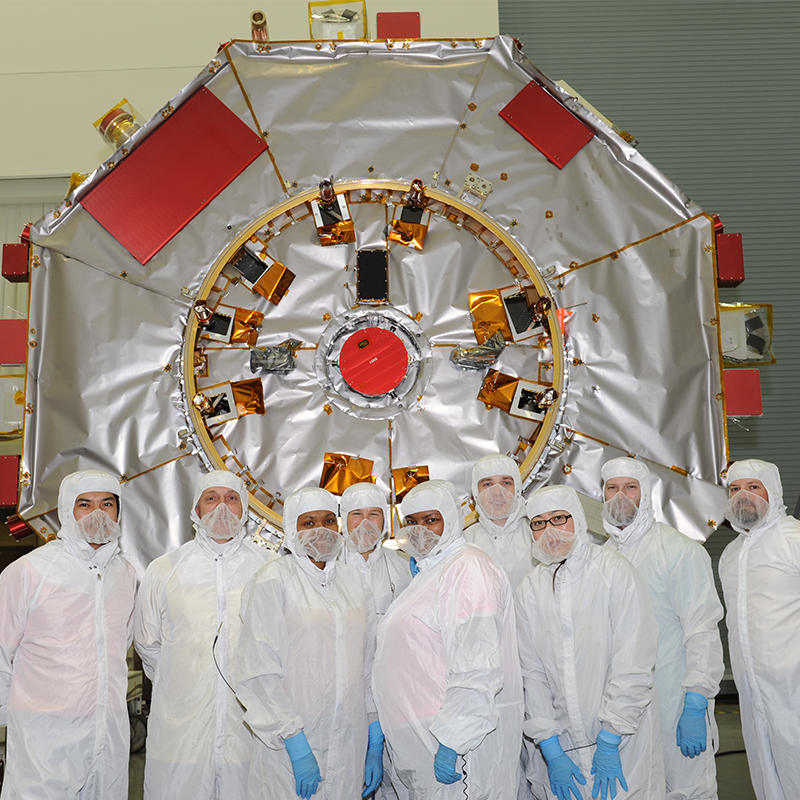 Vertex Aerospace President and CEO Nick Teti (mechanical engineering '85) along with Vice President and CTO Rommel Zara (aerospace engineering '00) have created a merit-based scholarship for freshman at the University of Maryland (UMD) who are pursuing either mechanical or aerospace engineering degrees.
Growing up in the Maryland region, Teti came from a family of accountants, and grew up expecting that accounting was the career he would pursue. However, a brief stint in high school working in an accounting office convinced him otherwise, and when an older friend attending the University of Maryland suggested he consider engineering—noting that Teti enjoyed fixing things and working on cars—Teti replied, "What's engineering?"
Arriving at UMD in 1979, Teti spent the next six years studying mechanical engineering and working a variety of co-op and internship jobs to support his education. It was through one of these opportunities, a job with the National Institute of Standards & Technology in the Building Technology Group, which performed thermal and heat transfer work for houses that he began to develop an appreciation for thermal engineering.
"One of the things that I recall the most was that the University of Maryland helped me find co-op jobs near the university, at my level, no matter which level I was at throughout my whole time at Maryland," added Teti.
Teti credits that series of jobs and co-ops with helping him to land his first position out of college as a thermal engineer at NASA. After four years there, he was hired by Swales Aerospace (now Northrop Grumman Innovation Systems), where he worked as a thermal engineer for nearly 20 years on everything from the shuttle program to the Earth Observing-1 satellite mission.
Teti hired Zara as a co-op student at Swales Aerospace to help with Earth Observing-1, which was the first contract Swales ever received to build its own satellite entirely from scratch. The satellite launched in 2000, the year Zara graduated from UMD, and post-graduation, Teti hired him full-time to assist with the post-launch operations. Over the next 10 years, Teti and Zara formed a professional relationship with lead roles on the next in-house Swales Aerospace satellite builds, THEMIS and TacSat-3.
"Our business is in Maryland. The majority of our employees are from Maryland, and we both feel that our careers have been very fulfilling. I've never not had work since I graduated 35 years ago, so not only did [the University of Maryland] help us get jobs that allowed us, and our company to grow, but I'm also hiring these quality engineers [from UMD] to make our company better."
In 2010, after Swales Aerospace lost its NASA support contract and was subsequently purchased by ATK (now Northrop Grumman), Teti and Zara noted the aerospace industry had a particular need for their specialized expertise in thermal engineering design, analysis and testing. To address that need, they founded Vertex Aerospace.
The company now holds contracts with a range of government and industry customers, including NASA, the National Oceanic and Atmospheric Administration, Johns Hopkins University Applied Physics Laboratory, and Southwest Research Institute. Their initial contracts with NASA included the Magnetospheric Multiscale Mission (MMS) and the Tracking and Data Relay Satellite System (TDRS). Following the successful launch of MMS in 2015, Vertex continues to support significant programs at NASA Goddard Space Flight Center (GSFC) including the Joint Polar Satellite System (JPSS) and the On-Orbit Servicing and Assembly and Manufacturing mission 1 (OSAM-1). Vertex Aerospace's thermal engineering support continues to grow outside of NASA with several commercial contracts ranging from startups to large satellite manufacturing companies.
Beyond Teti and Zara, the Vertex Aerospace team includes seven other UMD alumni from across engineering and physics, and part of their company mission is to help develop the next generation of engineers through mentorship and development.
"Our mentoring is based on the fact that we're still engineers, and we're able to share with them our experience – that's my 35 plus years and Rommel's 20 plus years working for NASA and industry," said Teti. "We've sustained 100 percent of our employees, and everyone we've hired is still with us from day one."
Establishing the Vertex Aerospace Scholarship in Engineering is a natural extension of this commitment to sustaining future generations of engineers. Their scholarship supports incoming freshman students pursuing mechanical and aerospace engineering degrees, majors that provide a basis for much of thermal engineering. Acknowledging the founders' deep roots in both the university and the state, the Vertex Aerospace scholarship will be awarded to one student from the eastern shore and one student from the western shore of Maryland each year.
"Our business is in Maryland. The majority of our employees are from Maryland, and we both feel that our careers have been very fulfilling," explained Teti. "I've never not had work since I graduated 35 years ago, so not only did [the University of Maryland] help us get jobs that allowed us, and our company to grow, but I'm also hiring these quality engineers [from UMD] to make our company better."
Published June 11, 2020