Aerospace Represented Among Wylie Dissertation Fellows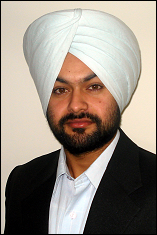 Ph.D. Student, Harinder Singh is a 2013-2014 recipient of the Ann G. Wylie Dissertation fellowship. The Ann G. Wylie Dissertation Fellowships are one-semester awards intended to support outstanding doctoral students who are in the final stages of writing their dissertation. Wylie Dissertation Fellowships carry a stipend of $10,000 plus candidacy tuition remission and $800 toward the cost of health insurance. The Graduate School awarded approximately 46 Wylie Dissertation Fellowships during the 2012-2013 academic year. Highly qualified students are nominated by their department for consideration. The Graduate School's Fellowship Committee, which represents disciplines from across the campus, evaluates nominations.
Singh's research focuses on theoretical and experimental analysis of an adaptive crash protection seat suspension for helicopters. He is working on a project supported by The U.S. Naval Air Warfare Center at Patuxent River, MD. The goal of the research is to minimize the potential for injury, a key issue in designing a helicopter seat suspension due to the fact that intense helicopter ground impacts resulting from hard or crash landings can transmit lumbar loads to the seated occupants. The impacts are sufficiently high enough to induce spinal and pelvic injuries. Other important considerations involve maintaining a good level of protection for the different body types of male or female pilots in different crash or hard landing conditions.
Singh, who is a native of Mohali, Punjab, India began his studies at U-Md. in the fall of 2008. He earned his M.S. from the aerospace program in 2011 and has continued to work closely with his advisor, Prof. Norman Wereley, the current department chair. Prior to coming to Maryland, Singh attended the Punjab Engineering college in Chandigarh, India where he earned his bachelor's degree.
Published May 1, 2013