Aerospace Graduate's Gift Elevates Teacher's Legacy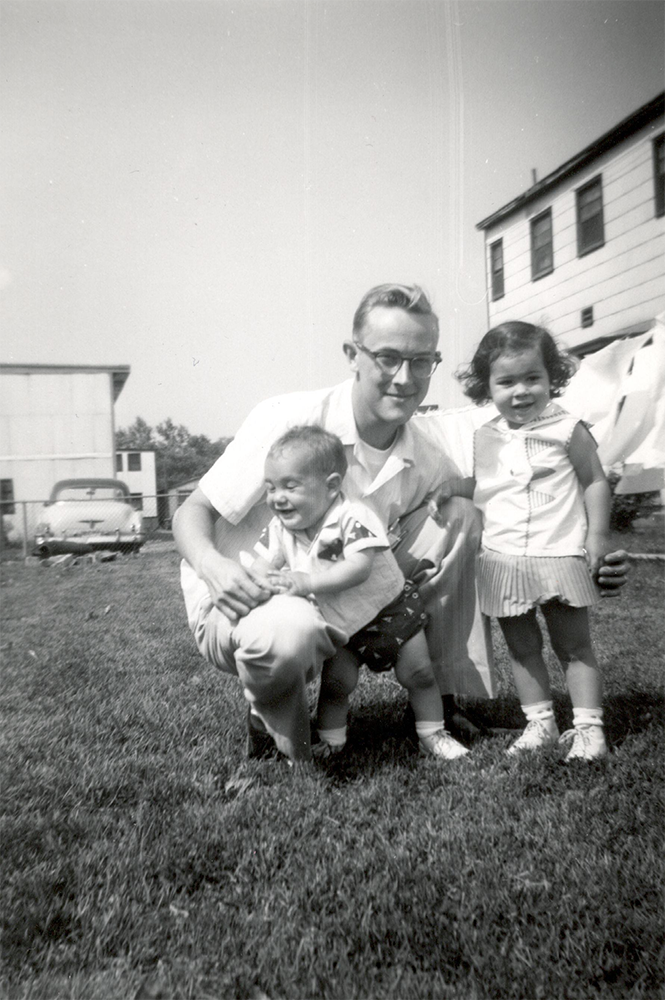 Two years ago, a serious medical diagnosis for Jim Rand ('61, M.S. '63, Ph.D. '67 aerospace engineering) led the A. James Clark School of Engineering alumnus to reflect on his long career and many remarkable successes in aerospace engineering. He thought back to whom he wanted to thank—and how.
That person was Robert "Bob" Rivello ('43, M.S. '48 mechanical engineering), who taught Rand and many other students in the University of Maryland's Department of Aerospace Engineering before he passed away in 1991; his wife, Marcelle O'Shaughnessy Rivello ('43 psychology), passed away in 1997.
"Bob Rivello stood out," says Rand, "as the one individual who helped me learn how to be an engineer, supported me in all my research, and was generally someone I looked up to."
Out of gratitude to his mentor, Rand has made a generous gift to the Clark School in support of the Robert M. Rivello Scholarship. His contribution doubles the amount of the endowed fund—and its impact on current and future students. Presented first in 2005, the yearly award goes to a junior-level aerospace engineering student who has attained the highest overall academic average. The 2018–2019 recipient is Justin Lidard.
"Dr. Rand's philanthropy demonstrates the importance of the faculty–student relationship and how far-reaching the positive outcomes of mentorship can be," says Department Chair and Minta Martin Professor Norman Wereley. "Endowed scholarships like this one are part of the permanent history of the department and will support deserving students for generations. We are so grateful Dr. Rand chose to honor Bob Rivello's legacy by elevating this fund to a level of real prestige in the department."
Rivello joined the department's teaching staff in 1946, after serving in the Air Force in World War II. A lover of flight, Rivello found a second love—for teaching—on the ground at Maryland. He was instrumental in setting Rand on a path to becoming one of the department's most accomplished alumni and a fellow of the American Institute of Aeronautics and Astronautics, American Society of Mechanical Engineers, and American Society for Engineering Education.
But first, as with many engineering problems, Rand had to fail. He laughs about it now, looking back at his first, unsuccessful start at Maryland. "I just wasn't ready for more school, right after high school," he recalls.
He left the university after his freshman year to join the Air Force. During the four-year "breather," he married his first wife, Deanne Marie, and had his first child of six. When he decided to return to college, Rivello was on the reinstatement committee that let Rand back in. Matured and motivated, Rand finished his engineering coursework for his bachelor's degree in three years instead of four. For a year after graduation, he worked at UMD as an aeronautical engineering instructor and then as a research engineer for the U.S. Naval Ordnance Laboratory, while he took courses at UMD toward his master's degree and doctorate.
After Maryland, Rand moved his family to Texas, where he would serve as a professor of aerospace engineering at Texas A&M University for 12 years. He taught courses on aircraft structures, using notes from his former teacher's courses, and even modeled his teaching style on Rivello's. "I was very taken by how he approached problems," Rand remembers. "He taught me that before you try and solve a problem, you have to find the cause of it."
One particular engineering problem Rand watched Rivello solve was related to the installation of a 21,000-pound replica of a blue whale at Smithsonian's National Museum of Natural History. Rivello was tasked with doing the stress tests of the display that became an icon at the Washington, D.C., museum. "You use your talent wherever you can; Bob Rivello was a prime example of that," says Rand.
Through his research, Rand became known for his analysis of high-altitude scientific balloons, like those used by atmospheric physicists to send telescopes above the atmosphere to study outer space. He continued this research when he went to work at the Southwest Research Institute before he was recruited to serve as president and CEO of Winzen International. "These balloons are some of the largest aerospace structures ever built, and they were built by my company, by my people," Rand says proudly. Rand and his wife of 45 years, Patricia, currently reside in San Antonio.
Back at Maryland, Rand's mentor, Rivello, spent 45 years teaching future aerospace engineers. His son, Dave Rivello ('77 law enforcement), remembers hanging out in his father's office. "Students always had positive things to say about my father," he says. That a former student, Rand, had such a favorable impression of his father was not a surprise. That Rand remembered his father with such a generous scholarship gift was the best kind of surprise.
"We have a lot of Terrapin blood in the family," says Dave, whose son John ('12 criminology and criminal justice), makes three generations of Rivello Terps. "My siblings and I contribute to the scholarship in our father's name every year, but this gift takes it to another level," he says. "Dad would be extremely humbled and deeply touched."
Are you looking to honor a faculty member who made an impact on a student, past or present? The Department of Aerospace Engineering welcomes gifts to this or any scholarship fund. Learn more by contacting Almarie Wood at aiwood@umd.edu or 301-405-9836.
Published June 17, 2019